The Bot Brief
"There is no force on earth more powerful than an idea whose time has come."
- Victor Hugo
Bots In the News: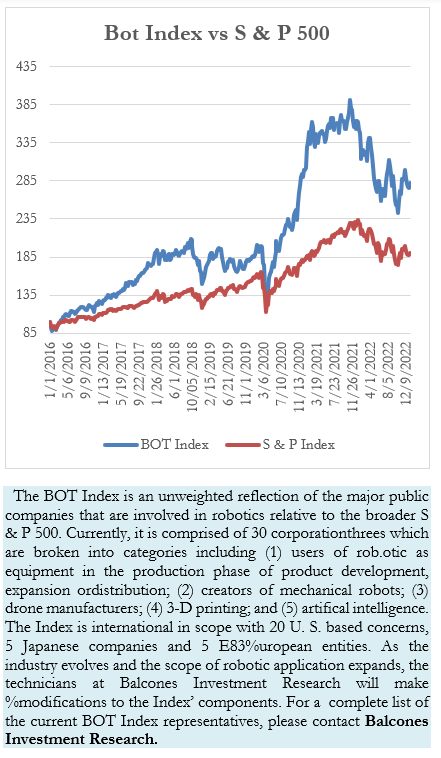 Despite having eight of the thirty components of the Bot Index in negative territory, the bot's performance for the first week of 2023 exceeded the S & P 500. The Bot Index rose 2.11% while the broad index gained 1.45%. The Bot Index was paced by eight corporations whose stock rose in excess of 5% and one which experienced a double-digit increase.
While 3D Systems was the best performer during the week with an 11.22% gain, Immersion Corp's 8.12% increase was the most notable. The company declared a special $.10 dividend to reward shareholders for an excellent quarter and a $.03 regular quarterly dividend. The importance of the dividend is due to the limitation of many institutional investors to non-dividend paying stocks. Thus, the new dividend policy will open ownership to a new source of investors.
Faro Corp., Leco and ABB Ltd. each gained in excess of 6%. ABB noted significant increase in insider ownership and announced a new electric charging station for home use. The new product will allow the user to determine if devices are charged with solar or other non-fossil fuel alternatives, will have a remote app that will inform the user as to the extent of a charge progress and provide remote servicing.
Azenta gained 5.08% as investors anticipate the Feb 6th earnings report will, like its previous four quarters, provide a gain more than analysts' expectations.
Finally, NIO Inc. gained 6.36% for the week despite a Friday sell off that was a result of Tesla's announcement of price reductions of its China-marketed EV's. The stock dropped from $10.85 to close at $10.37 in the final hours of Friday.
There were three losers of note for the week. Tesla declined another 8.22% on the heels of its aforementioned price cut on its Chinese electric vehicles. Northrup Grumman and Lockheed Martin fell 4.43% and 2.72% respectively as defense stocks moved downward in tandem.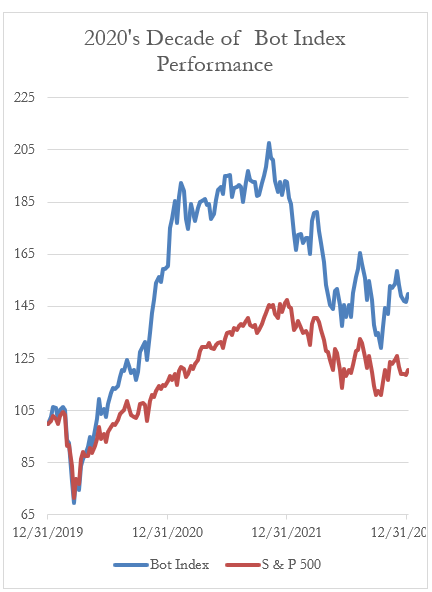 Drone Boats are Not For Skiing:
The December 10th issue of The Economist carried a report in its Science and Technology sector regarding the Ukrainian development and employment of drone boats. Using the use of aerial drones to conduct surveillance and offensive measures as a primer, these water borne drones have a similar and equally deadly mission. Already the Ukrainians have attacked Russian vessels in their Black Sea home port. The flagship Admiral Makarov was heavily damaged as were two other vessels. The drones employed by the Ukrainian military have a payload of 200kg of explosives and are aimed at the waterline of its targets. Costing only $250,000 (a tenth the cost of an antiship missile), the devices cruise at just a few centimeters above the water and are virtually invisible to radar. As has aerial drone technology risen to a level where clusters of drones can be autonomously led to attack a target, so can their water borne sisters. The inexpensive and technologically accepted guidance will make naval war departments rethink their commitment to mega-expensive ships that can be put out of commission while at dock or at sea.
Member: American Economic Association, Society of Professional Journalists, United States Press Association. Institute of Chartered Financial Analysts, Robotic Industries Association, Member IEEE.
The Bot Brief is a weekly newsletter designed for economists, investment specialists, journalists, and academicians. It receives no remuneration from any companies that may from time to time be featured in the brief and its commentaries, analysis, opinions, and research represent the subjective view of Balcones Investment Research, LLC. Due to the complex and rapidly changing nature of the subject matter, the company makes no assurances as to the absolute accuracy of material presented.