The Bot Brief
"There is no force on earth more powerful than an idea whose time has come."
- Victor Hugo
Bots in The News: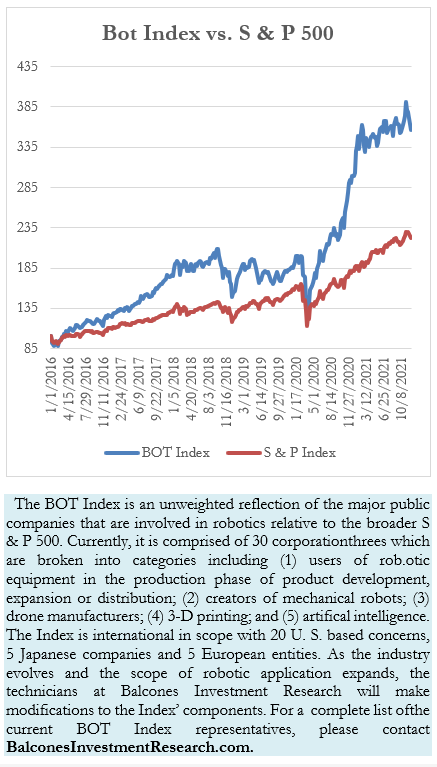 The robotic stocks that make up the Bot Index were, once again, rolled by the increasing fears of the new coronavirus strain. There were only five of the thirty stocks that were in positive territory by the end of the week, which accounted for the 2.17% decline in the index. The broader S & P 500 fell only 1.22%. Of the gainers was the new name and symbol of the previously known company of Brook Automation. The new name for the company is Azenta (AZTA). The greatest gainer was ABB Ltd. who was up 3.59%.
Of the losers, by far, was the near 20% decline by the Chinese EV firm NIO Ltd. Pressure from Chinese political powers forced the NYSE delisting of another Chinese firm Didi Global this week. Sentiment was that other U.S. listed firms may also fall under the pressure of the Chinese government.
Hydrogen Power Again:
During the past few months, the Bot Brief has noted the emergence of hydrogen power as a leading clean fuel for the future. With the emergence of electricity as a central theme of a fossil fuel replacement, hydrogen fuel cell technology appears to be capturing the attention of both investors and politicians. We interviewed our friend Andrew Coors of Steel Head Composites a couple of weeks ago regarding his firm's hydrogen containment vessels. In a follow-up, he noted yesterday, that he had seen information that there is a billion dollars of hydrogen-related world-wide investment EACH WEEK!
This assessment was reinforced by an announcement, this week, from a Spanish power company Iberdrola and a Swedish steel firm to develop a major 1-gigawatt green hydrogen plant for the production of steel. The 2.3-billion-euro project would be used to generate 2 million tons of iron each year in the production of finished steel. Traditional methods generate tons of carbon. Among the heavy industries, the iron and steel sector ranks first when it comes to CO2 emissions and second regarding energy consumption. Currently coal constitutes 75% of that energy requirement. This is just representative of another step in the development of green, renewable energy which will power the Robotic Revolution of the future.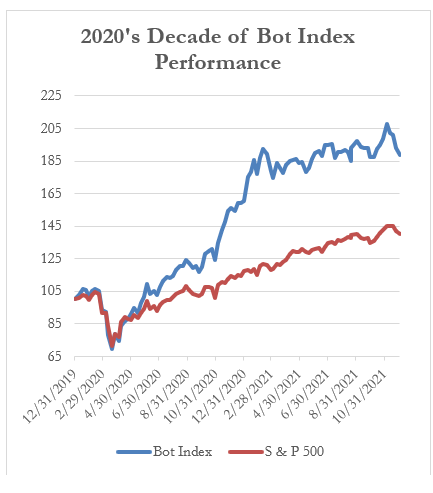 Member: American Economic Association, Society of Professional Journalists, United States Press Association. Institute of Chartered Financial Analysts, Robotic Industries Association, Member IEEE.
The Bot Brief is a weekly newsletter designed for economists, investment specialists, journalists, and academicians. It receives no remuneration from any companies that may from time to time be featured in the brief and its commentaries, analysis, opinions, and research represent the subjective view of Balcones Investment Research, LLC. Due to the complex and rapidly changing nature of the subject matter, the company makes no assurances as to the absolute accuracy of material presented.