The Bot Brief
"There is no force on earth more powerful than an idea whose time has come."

- Victor Hugo

Bots In the News: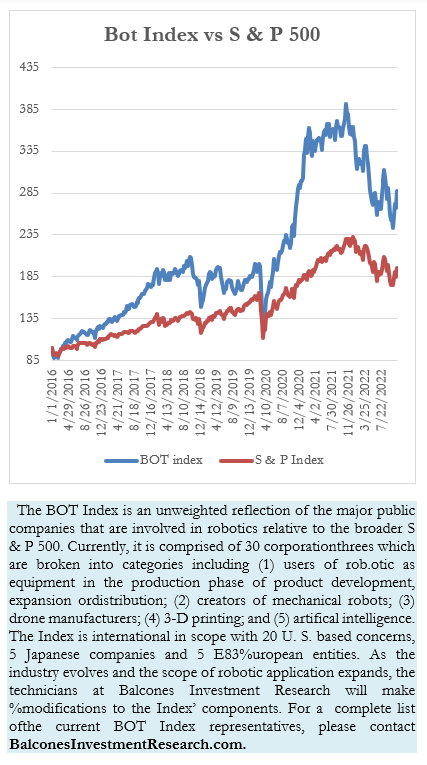 The market responded to a better than anticipated inflation report with a strong upswing in last week's trading. The higher beta bots gained 7.59%, one of the strongest performances for the history of the Index. Its move bested the S & P 500 which still rose a strong 5.89%.
There were only five losers during the week, three of which were in the defense industry – Northrup Grumman -5.75%, Lockheed Martin -3.69% and Raytheon -1.65% respectively. The other two companies with disappointing results were the two electric vehicle corporations. Tesla fell 5.54% and NIO Inc. declined 1.03%.
Almost half of the components of the Bot Index increased their value into double digits. This was a record for the nearly seven year history of the Index. Of the fourteen companies that rose by double digits, the best performance was turned in by 3D System's 24.78%. A surprise better than expected earnings report accounted for the increase which was noted on significantly higher volume that normal. Other strong gainers included:
Faro Technologies +18.22%
Azenta +16.47%
Yaskawa Electric +15.95%
OMRON Corp +15.45%
NVIDIA Corp +15.34%
Keyecee Corp +13.03%
Google +11.56%
Cognex +11.12%
Fanuc +10.67%
Intuitive Surgical +10.67%
Rockwell Automation +10.55%
ABB Ltd. +10.23%
Accuray Inc. +10.09%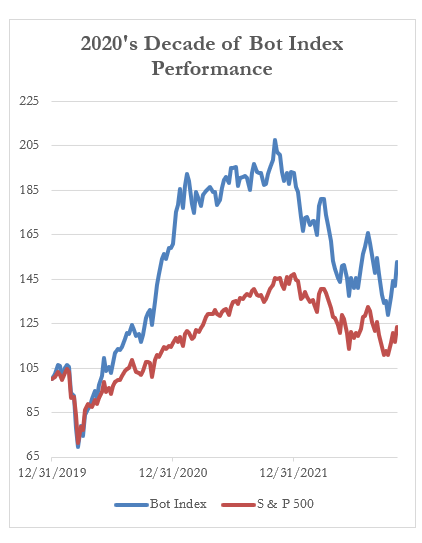 Member: American Economic Association, Society of Professional Journalists, United States Press Association. Institute of Chartered Financial Analysts, Robotic Industries Association, Member IEEE.
The Bot Brief is a weekly newsletter designed for economists, investment specialists, journalists, and academicians. It receives no remuneration from any companies that may from time to time be featured in the brief and its commentaries, analysis, opinions, and research represent the subjective view of Balcones Investment Research, LLC. Due to the complex and rapidly changing nature of the subject matter, the company makes no assurances as to the absolute accuracy of material presented.