The Bot Brief
"There is no force on earth more powerful than an idea whose time has come."
- Victor Hugo
Bots in The News: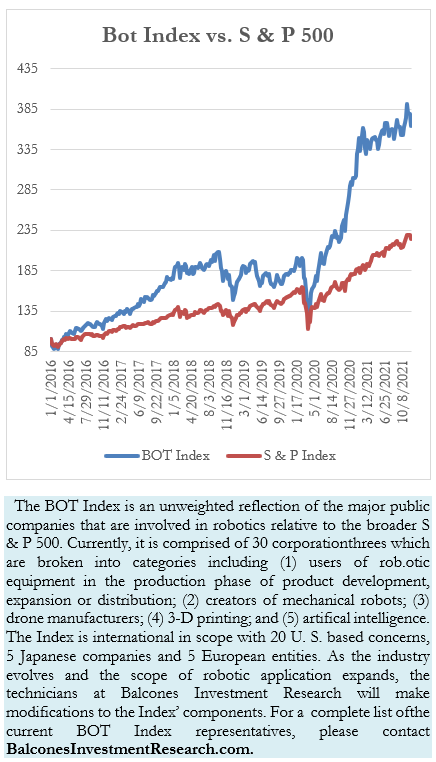 Despite the Friday tumble of virtually every equity market in the world, the Bot Index declined only 3.94% for the week. However, there were only three companies that posted gains and only NIO Ltd. recorded any meaningful increase at 3.44%. The remaining two gainers were Lockheed Martin and Northrup Grumman who each eeked out less than forty basis point. While that means that there were 27 decliners in the Index, there were no double digit decreases among the components.
Friday's 905 point drop in the Dow and 353.54 slide in the NASDAQ were as a result of rising concerns of yet another strain of the Covid virus. While the instances of the disease seem to be centered in Africa, health agencies were quick to note the explosive transmission capabilities of the new strain, sending the world into a risk-on posture. Fearing the worst, many investors moved quickly to the sidelines as the media picked up on the new virus. As new information arises, however, there could be something of a rebound from the knee jerk reaction of investors on Friday. A friend who happens to be a noted virus expert sent us the following text this afternoon:
"The latest variant has a cluster of concerning mutations that appear to make it both more transmissible and potentially resistant to antibodies. There are only 85 confirmed cases so far (77 in South Africa, four in Botswana and two in Hong Kong, one in Israel, and one in Belgium) but NU is quickly outcompeting the delta variant in South Africa as cases in that country are up 321% from last week. The WHO has appropriately called an emergency meeting to discuss the variant today and several countries are banning flights from South Africa.
We need to see what happens when this variant enters a developed country with sophisticated monitoring system. I was able to quickly dismiss delta-plus because it briefly popped up in the Netherlands and then faded. A truly dangerous variant doesn't fade. A few days later from now we'll know if in new variant spreads more easily and/or evades the human immune system. If so, mRNA vaccines will be updated very quickly and will control this. Based on what I have seen, our therapeutics will remain effective against NU (with the possible notable exception of monoclonal antibodies which may not work).
There's a lot of doomsday reporting today but it's reassuring we have mechanisms in place to detect new variants and nimble vaccine platforms to tackle them. We can have updated vaccines before New Year's."
If the good doctor is correct, concerns about a repeat of economic closure may be overblown and the market could resume its upward trajectory. Guess we will see in the coming days.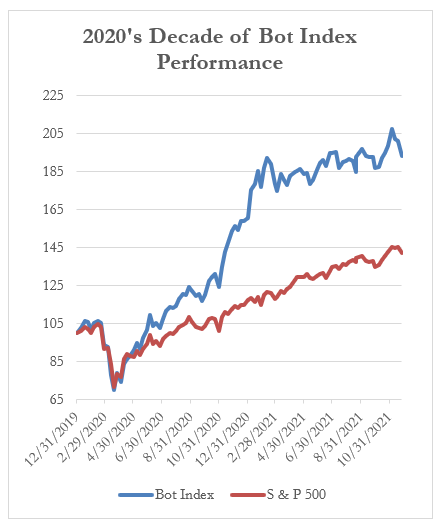 Member: American Economic Association, Society of Professional Journalists, United States Press Association. Institute of Chartered Financial Analysts, Robotic Industries Association, Member IEEE.
The Bot Brief is a weekly newsletter designed for economists, investment specialists, journalists, and academicians. It receives no remuneration from any companies that may from time to time be featured in the brief and its commentaries, analysis, opinions, and research represent the subjective view of Balcones Investment Research, LLC. Due to the complex and rapidly changing nature of the subject matter, the company makes no assurances as to the absolute accuracy of material presented.