The Bot Brief
"There is no force on earth more powerful than an idea whose time has come." Victor Hugo

Bots In the News: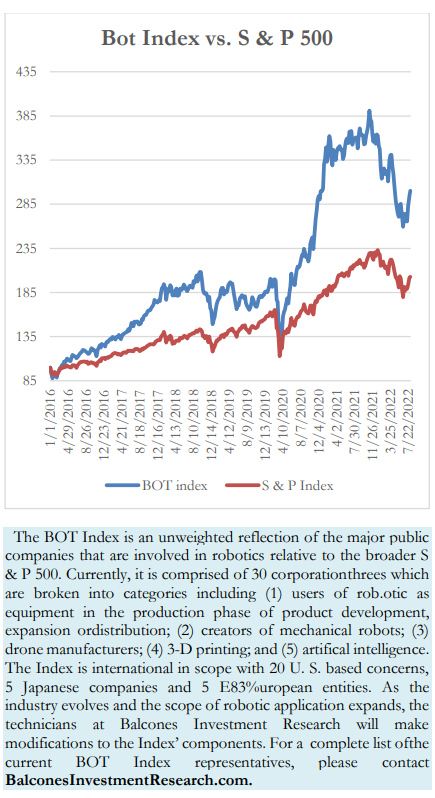 Once again this week the Bot Index exceeded the return achieved by the S & P 500. In what some are saying that the bear market has ended, the bots gained 1.91% while the broad market rose 36 basis points. The biggest news regarding the components of the Bot Index was the takeover of iRobot by Amazon. While subject to possible antitrust investigation and approvals, the $1.7 billion takeover represented a 22% premium over the pre offer price. Interestingly, the stock rose 29.40% for the week to lead the Bot Index.
Also, performing into double digits were shares of 3D Systems and Faro Technologies. Due to report earnings on August 8, DDD was subject of two articles expounding the opportunities for the company. Zachs published a feature entitled 'Looking For Stocks With Positive Earnings Momentum? Check Out These Two Computer and Technology Names'. The second article was from Insider Monkey, 'Ten Best 3D Printing Stocks to Buy Now' that also included a Bot Index component Faro Technologies. The stocks gained 10.23% and 11.29% respectively.
Intuitive Surgical rose 4.41% after reporting its product's use in surgical procedures had increased 14% in the most recent quarter over the prior years' comparable quarter. The company also benefited by a Motley Fool feature – '3 Growth Stocks Down 25% to 71% to Buy in August' that included the company.
While the Hellfire drone that took out Ayman al-Zawahiri last week was manufactured by Lockheed Martin and Northrup Grumman, the impact of successful drone warfare was manifest upon AeroVironment whose stock rose 4.07% following the incident.
Among the losers in last week's performance report were shares of Oceaneering International. Shareholders were disappointed both by the $.04 June quarter earnings, which was below expectations, and the recent decline in crude oil.
Also damaged by disappointing earnings was Cognex Inc. The stock fell nearly 6% after reporting less than expected results. The weakness was attributed to a significant fire in one of their primary suppliers, disrupting the company's fulfillment procedures.
The Taiwanese company, Hiwin Technologies fell 2.56% likely due to the heightened conflict with China over U.S. Speaker of the House's recent visit to the island.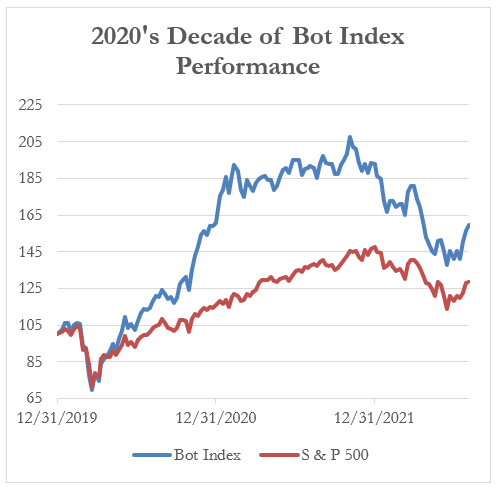 Member: American Economic Association, Society of Professional Journalists, United States Press Association. Institute of Chartered Financial Analysts, Robotic Industries Association, Member IEEE.
The Bot Brief is a weekly newsletter designed for economists, investment specialists, journalists, and academicians. It receives no remuneration from any companies that may from time to time be featured in the brief and its commentaries, analysis, opinions, and research represent the subjective view of Balcones Investment Research, LLC. Due to the complex and rapidly changing nature of the subject matter, the company makes no assurances as to the absolute accuracy of material presented.