The Bot Brief
"There is no force on earth more powerful than an idea whose time has come."
- Victor Hugo
Bots in The News: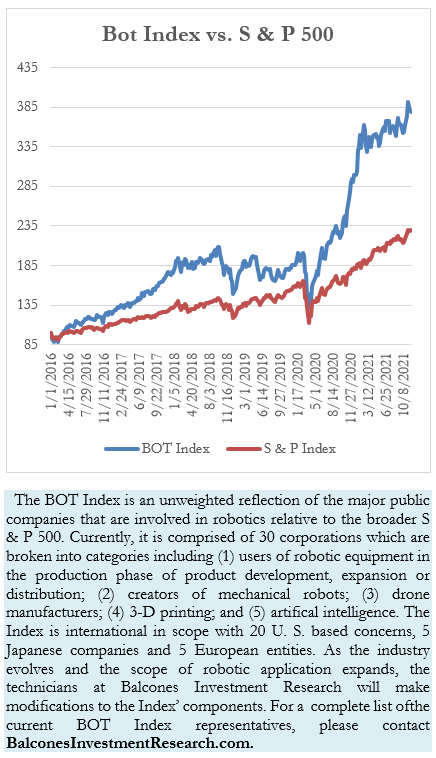 In spite of Apple reaching an all-time high stock price level and Tesla climbing by double digits the Bot Index was virtually flat for the past week. Spurred by a glowing report by Morgan Stanley, Apple jumped over 7% as information regarding the Apple automobile's introduction was pegged for 2025.
Tesla shares recovered from the prior week's 15% decline that was a result of Elon Musk's tax prompted sale and gained 10.03%. Not only was the sale pressure lifted, but the stock was stimulated by a Barron's article that suggested the company could hold 20-25% of the total U.S. auto market with in the next five years.
Earnings prompted NVIDIA Corp.'s spectacular increase of 8.54%. The company reported October quarter's $7.1 billion in revenue, up 50.3% and net income of $2.46 billion, up 84.43%. Net profit margins grew to 34.7%. The gains together with excitement over Metaverse future opportunities, led Raymond James to increase its stock price target to $365 and Jefferies to the $370 level. The stock closed at $329.
Other gainers included bounce backs by Brooks Automation (+4.05%) and Rockwell (+4.09%).
Disappointing earnings led to the 13.36% slide in shares of Oceaneering International, while heavy insider trading caused the 8.87% drop by Immersion Corp.
3D Systems fell 5.26% following the private placement of a $460 convertible zero coupon bond offering. The bonds will mature in 2026. The notes have an initial conversion rate of 27.8364 shares of common stock per $1,000 principal amount of notes (which is subject to adjustment in certain circumstances). This is equivalent to an initial conversion price of approximately $35.92 per share. Well above the currently traded $24.30 price.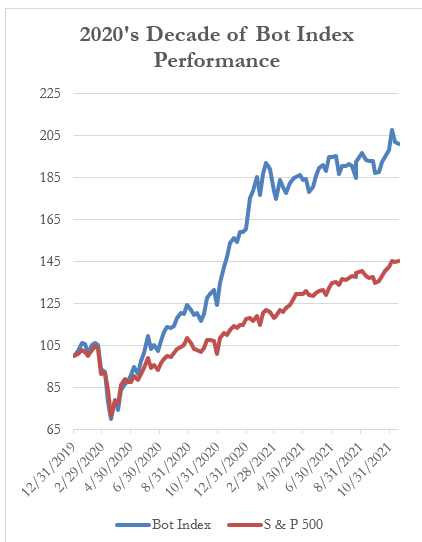 Me And My eVTOL:
In an interesting coincidence, The IEEE Spectrum magazine just carried an article on electric vertical takeoff and landing crafts while Apple announced the target date of its Apple Automobile introduction. Both entities are attempting to deliver solutions to increase the productivity of public transportation. While Apple is using electricity as its main power source, it is also attempting to automate the driving function. Like Apple the eVTOL industry utilizes electricity but is focused on the absolute safety of the aircraft. The title of the Spectrum article is "How Safe Are eVTOLs? Extremely safe – say manufacturers. Very similar to drones that have been around for a while, eVTOL's are designed to carry passengers with a similar propulsion and lift. Unlike traditional passenger aircraft that have wings and can potentially glide in the case of failure or helicopters that can autorotate to control safe descent, the eVTOL's have to rely upon absolute integrity of the components. Currently commercial aircraft are required to be engineered to a failure rate of one per ten million hours of operation. To exceed those parameters, the eVTOL manufacturers are developing redundancy of both hardware and software components. Apparently, the industry is confident in their approach, which generated over one billion in VC in 2020 alone and both United Airlines and American Airlines have purchased 450 of the units.
Truly, we are on the cusp of major advances in transportation in both land, sea and in the air.
Member: American Economic Association, Society of Professional Journalists, United States Press Association. Institute of Chartered Financial Analysts, Robotic Industries Association, Member IEEE.
The Bot Brief is a weekly newsletter designed for economists, investment specialists, journalists, and academicians. It receives no remuneration from any companies that may from time to time be featured in the brief and its commentaries, analysis, opinions, and research represent the subjective views of Balcones Investment Research, LLC. Due to the complex and rapidly changing nature of the subject matter, the company makes no assurances as to the absolute accuracy of material presented.