The Bot Brief
"There is no force on earth more powerful than an idea whose time has come."
- Victor Hugo
Bots In the News: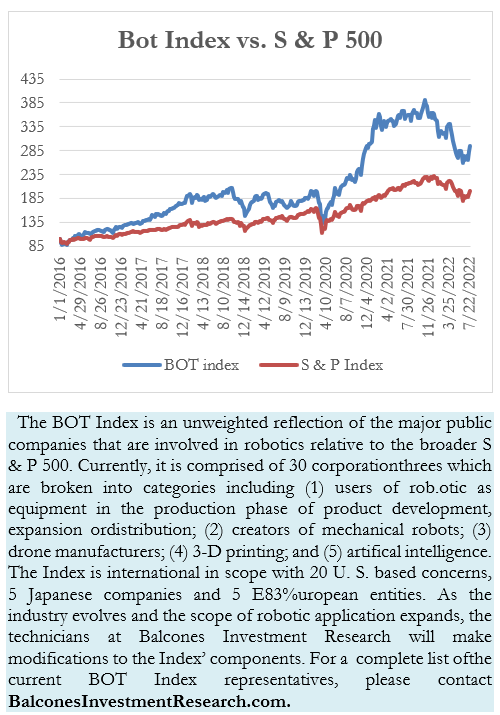 The market's uptick allowed the Bot Index to increase 4.45% last week. The results indicated a 20 basis point increase over the broad market and included three components that produced double digit returns. The only significant loss within the bots was the 6.71% slide by Hiwin Technologies. The weakness was undoubtedly due to the announced visit by U.S. Speaker Chair Nancy Pelosi to Taiwan and the aggressive reaction by mainland China.
A third quarter sales jump of 6.5% with earning per share of $2.66 allowed Rockwell Automation to become the best performer in the Bot Index. The eps was $.35 above last year and $.27 above Wall Street consensus. The stock rose 15.20%
Lincoln Electric was the bot's second best performer with its 10.79% jump. Like Rockwell, earnings for LECO's second quarter spurred the increase. Versus an estimate of $1.99 and last year's $1.67, the company turned in a solid $2.18. This was the fourth straight quarter that the company exceeded analysts' expectations.
Amazon gained 10.27% for the week also due to better than expected revenues. While the earnings experienced a $.20 loss, sales were up 7%, prompting Jefferies & Co. to increase their share target to $165. The stock closed at $135.
Tesla continued its recent strength and gained 9.15%. Following its good earnings report, the company will also benefit from the $369 billion passed package for energy and climate change. The EV maker will benefit as purchasers of its automobiles will qualify for a $7,500 tax credit.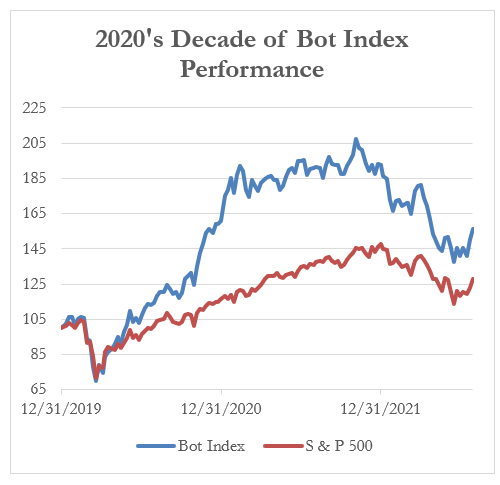 Member: American Economic Association, Society of Professional Journalists, United States Press Association. Institute of Chartered Financial Analysts, Robotic Industries Association, Member IEEE.
The Bot Brief is a weekly newsletter designed for economists, investment specialists, journalists, and academicians. It receives no remuneration from any companies that may from time to time be featured in the brief and its commentaries, analysis, opinions, and research represent the subjective view of Balcones Investment Research, LLC. Due to the complex and rapidly changing nature of the subject matter, the company makes no assurances as to the absolute accuracy of material presented.