The Bot Brief
"There is no force on earth more powerful than an idea whose time has come."
- Victor Hugo
Bots In the News: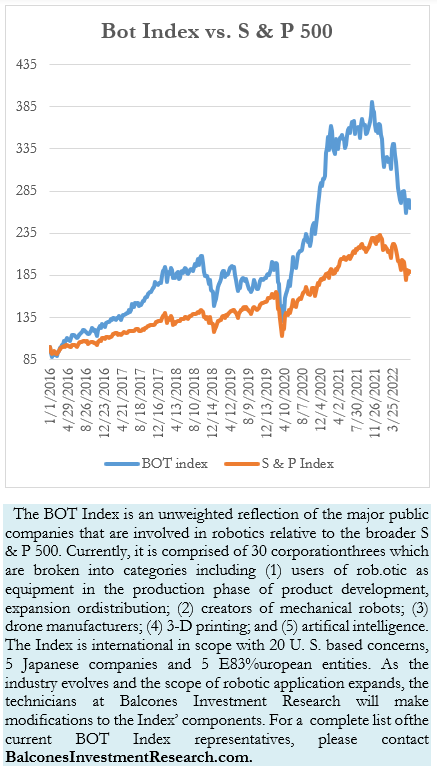 The markets experienced a reversal of fortunes from the Independence Day week. The S & P 500 declined 93 basis points; however, the Bot Index tumbled a bit over 3%. The downturn was led by a 14% slide by Azenta Corp. Third quarter earnings of Azenta reflected some weakness in the healthcare sector of the economy. Revenues were only 3 percent better than comparable 2021 quarter and $11 million below analysts' expectations. Earnings per share are expected to be in a range between 8 and 13 cents, well below the $.53 of last year.
Also hovering around the double-digit decline territory were Oceaneering International Corp. (-11%), Yaskawa Electric (-9.33%), iRobot (-8.95%) and NIO (-8.32%).
The low-priced Cyberdyne rose 7% while Faro Technologies gained 3.4% and Rockwell Automation increased a modest 3%.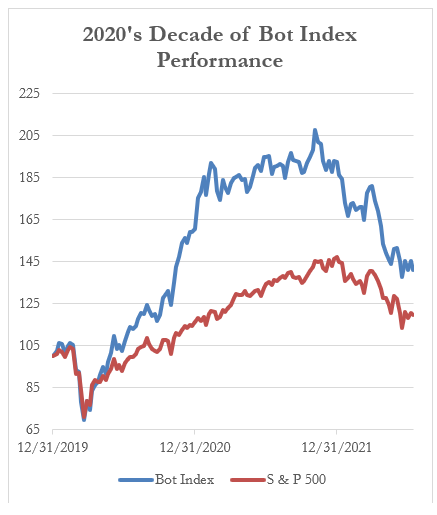 New Release:
Our friend Marian Tupy of Human Progress announced that his new book – Superabundance: The Story of Population Growth, Innovation, and Human Flourishing on an Infinitely Bountiful Planet is expected to be released on August 31st. If it is anything like his previous book – Ten Global Trends Every Smart Person Should Know it will be a positive read in this era of excessive bad news. Dr. Tupy's Human Progress uncovers advances in healthcare, agriculture, Artificial Intelligence, robotics and technology that improve the human condition. A refreshing change from mainstream negative media.
Member: American Economic Association, Society of Professional Journalists, United States Press Association. Institute of Chartered Financial Analysts, Robotic Industries Association, Member IEEE.
The Bot Brief is a weekly newsletter designed for economists, investment specialists, journalists, and academicians. It receives no remuneration from any companies that may from time to time be featured in the brief and its commentaries, analysis, opinions, and research represent the subjective view of Balcones Investment Research, LLC. Due to the complex and rapidly changing nature of the subject matter, the company makes no assurances as to the absolute accuracy of material presented.