The Bot Brief
"There is no force on earth more powerful than an idea whose time has come."
Victor Hugo
Bots In the News: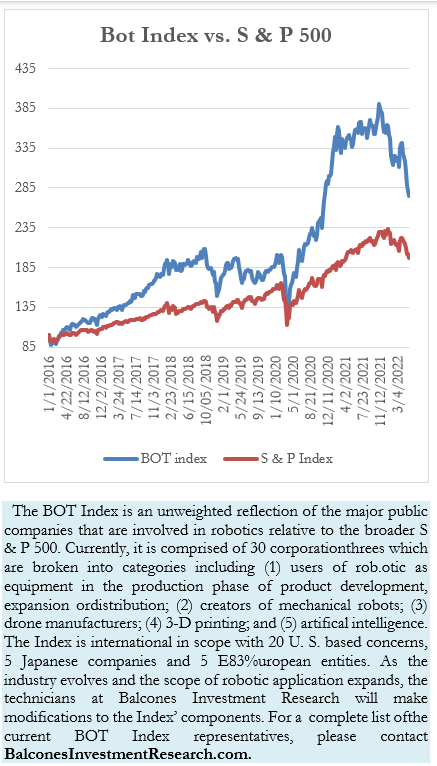 Even with a strong rally within the NASDAQ on Friday, the Bot Index declined just under two and a half percent. That value reduction was the same as recorded by the S & P 500 for the week. While the weakness was across the board, there were only two bot stocks that experienced double digit declines. The worst performer within the index was Tesla whose Shanghai plant's production has been cut due to pandemic-led restrictions. The new two and a half mile Austin plant has yet to come onstream to offset the pandemic issues that China is facing. The stock was down eleven percent for the week.
Oceaneering International was the only other double-digit decliner with a 10.27% slide. The stock fell on very heavy volume (over one million shares per day over the week).
The haptics firm Immersion Corp. jumped almost 17% to lead the gainers for the week. The company reported excellent first quarter results with revenue gaining a bit while earnings exploded as a result of cost containment. Net Income increased from $2 million to $5.1 million and EPS from 7 cents to 15 cents.
Azenta rose 5.55% during the week on heavy volume but no substantial news.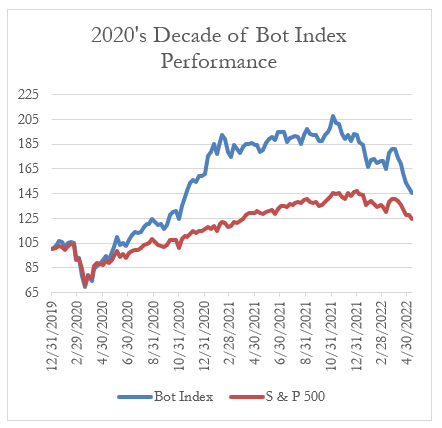 Scots in Space?:
Headquartered in Forres Moray Scotland, a relatively new company Orbex (Orbital Express Launch Ltd) has developed a small commercial orbital rocket named Prime. The unique satellite delivery vehicle uses a series of environmentally friendly fuels and is determined to become carbon-neutral in both its construction and operation. The two-stage rocket is powered by seven engines that were constructed entirely utilizing 3D printing solutions. The rocket itself is re-usable and will leave no space nor Earth debris. A prototype is ready for employment and, after extensive testing, will be launched from the company's Space Hub Sutherland, on the A'Mhaoine peninsula.
The company is privately owned but has a series of funding from VC companies and the UK Space Agency.
Member: American Economic Association, Society of Professional Journalists, United States Press Association. Institute of Chartered Financial Analysts, Robotic Industries Association, Member IEEE.
The Bot Brief is a weekly newsletter designed for economists, investment specialists, journalists, and academicians. It receives no remuneration from any companies that may from time to time be featured in the brief and its commentaries, analysis, opinions, and research represent the subjective view of Balcones Investment Research, LLC. Due to the complex and rapidly changing nature of the subject matter, the company makes no assurances as to the absolute accuracy of material presented.