The Bot Brief
"There is no force on earth more powerful than an idea whose time has come."
- Victor Hugo
Bots In the News: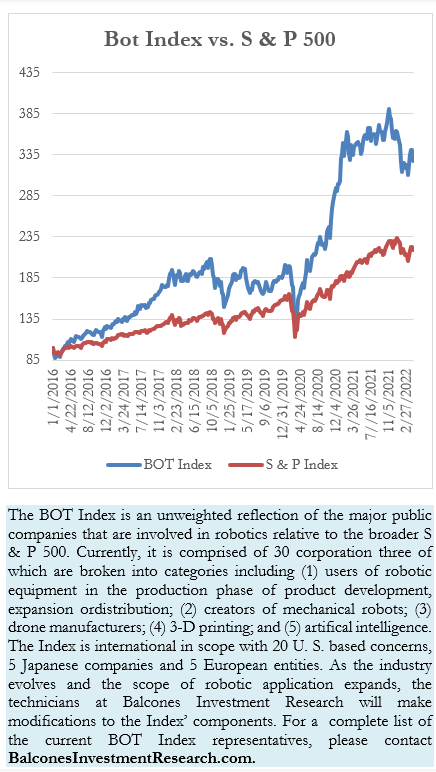 Inflation, Fed policy moves and the ongoing geopolitical crisis extracted a toll on the equity markets last week. Particularly hard hit were the high beta NASDAQ companies. Consequently, the Bot Index fell almost 4% versus the S & P 500's 1.27% decline. The only gainers within the Bot Index were the defense manufacturers. General Milley's comments to Congress on Tuesday concluded that the conflict between Russia and Ukraine will certainly last for years. With that assessment, investors flowed capital into AeroVironment (+9.35%), Lockheed Martin (+3.48%) and Northrup Grumman (+1.95%).
Of the losers, NVIDIA Corp.'s 13.45% drop contributed most to the Bot Index's underperformance. On Wednesday, a Truist analyst expressed concern that semiconductor chip orders were experiencing some weakness in demand. Consequently, the analyst reduced their price target for the stock from $347 to $248. The stock closed around $231. 3D Systems and Immersion Corp. also experienced double digit declines during the week. The Chinese EV company NIO Inc. fell 8.80% following the report that the key executive in the company's autonomous driving division was leaving the firm to create a start-up semiconductor company.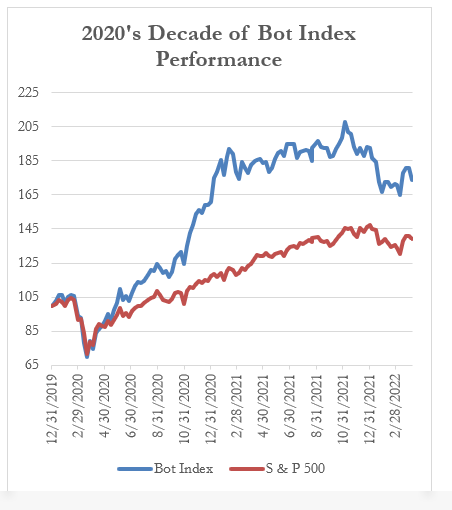 What Next Mr. Musk:
Less than a year ago Elon Musk announced that he was involved in the creation of a very humanoid looking robot. At the Austin, Texas Tesla production plant's opening last week, Mr. Musk announced that his bot – Optimus – would go into production next year! The AI supplied 5'8" robot is, in Elon's own words, "is able to transform the world even more than autonomous vehicles." The bot is expected to 'eventually' be able to perform all the duties that humans don't want to do. While detractors think that Musk's speculations are hyperbole, others fear that this is a major step towards robots' presenting a new danger to mankind. While Musk indicated that his robot will be unable to out run nor out physically overcome humans, the potential for evolution is the fear of a 'Terminator' environment for the future. In that context, Mr. Musk simply said, "it will bring an age of abundance."
Member: American Economic Association, Society of Professional Journalists, United States Press Association. Institute of Chartered Financial Analysts, Robotic Industries Association, Member IEEE.
The Bot Brief is a weekly newsletter designed for economists, investment specialists, journalists, and academicians. It receives no remuneration from any companies that may from time to time be featured in the brief and its commentaries, analysis, opinions, and research represent the subjective view of Balcones Investment Research, LLC. Due to the complex and rapidly changing nature of the subject matter, the company makes no assurances as to the absolute accuracy of material presented.