the Bot Brief
"There is no force on earth more powerful than an idea whose time has come." Victor Hugo
Bots In the News: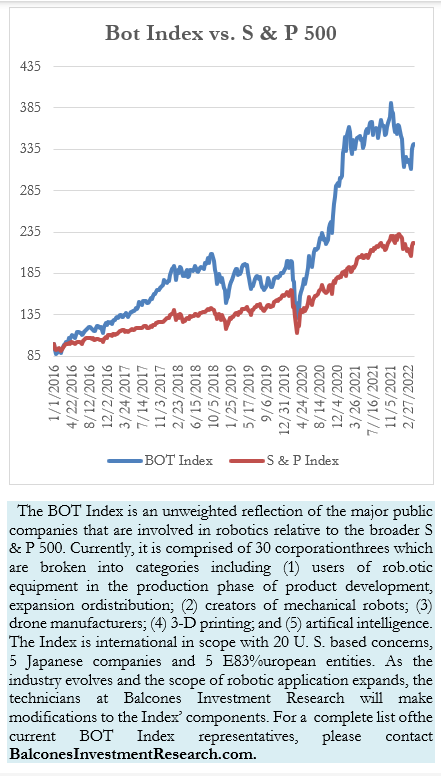 Despite a plethora of news surrounding geopolitical events, employment, interest rates and consumer confidence, neither the Bot Index nor the S & P 500 reflected any particular direction last week. The bots gained 1 basis point while the broad index rose about half that. There were, however, some significant winners and losers. Based upon good deliveries of electric vehicles, NIO Inc. rose 10.15% and Tesla gained 7.32%. With some reprieve from Covid-19 hospitalizations, two bot healthcare firms produced noteworthy increases. Intuitive Surgical jumped 6.51% while the cyber-knife company Accuray Inc. gained 4.64%. Rounding out the gainers was Cognex Corp.'s 4.3% rise. In the past three week's trading the company has had a string of increases of 8.7%, 4.4% and the current 4.3%. The company recently announced a $500 million stock buyback program.
Excluding defense companies in the Bot Index (who were in negative territory), all the significant losers for the week came from foreign holdings. OMRON Corp., Yaskawa Electric and ABB Ltd. slid 6%, 4.1% and 5.03% respectively.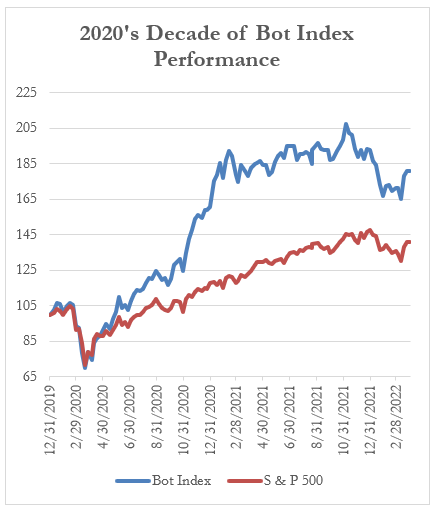 The Nose Knows:
The Bot Brief has frequently commented on the relative absence of one of the five senses regarding robots' mimicking of homo sapiens. Of the physical human characteristics, the one that is most seldom recognized as useful is smell. Unlike most of the beasts on earth, the development of smell by humans has languished and serves primarily as an adjunct to taste. To augment human sight, we invented glasses and thus lidar and radar usage by automation. Likewise, to assist in hearing, hearing aids are abundant in the over 55 population and Suri and HayGoogle are applied to robotic communication devices. Artificial ingredients are frequently added to enhance taste in processed foods and touch has been the subject of extensive haptic research to allow production robots to mimic this decidedly human skill. Until recently, however, smell has largely been ignored as a skill that is essential to automation.
As robotics are being more widely applied in medical procedures, a recent event has helped spur more interest in the need for smell in detecting human health maladies. For years there has been anecdotal evidence of pets having pronounced behavioral vagaries when they sense health issues with their masters. Since their smell instincts are so much stronger than in humans, it was suggested that pets might smell tumor growth or other secretions that indicate health problems. In 2019, a retired nurse in Scotland developed a proclivity to smell skin secretions which detected Parkinson's disease. So accurate was her particular skill that she has never been wrong and has even detected the occurrence in humans before any other symptoms. Since the early detection of Parkinson's is crucial to treatment, this 'breakthrough' could be a blessing to mankind.
Mrs. Milne, the Scot with the smell skill, caught the attention of a couple of health scientists in China who have come up with a device that mimics Milne's olfactory abilities. The result is a small device that takes skin secretions, vaporizes them and bombards the gas with sound waves. Patterns of the waves are subjected to AI and, at this writing a 70% verification has been achieved. Further AI enhancements will surely improve the performance of early detection.
Member: American Economic Association, Society of Professional Journalists, United States Press Association. Institute of Chartered Financial Analysts, Robotic Industries Association, Member IEEE.
The Bot Brief is a weekly newsletter designed for economists, investment specialists, journalists, and academicians. It receives no remuneration from any companies that may from time to time be featured in the brief and its commentaries, analysis, opinions, and research represent the subjective view of Balcones Investment Research, LLC. Due to the complex and rapidly changing nature of the subject matter, the company makes no assurances as to the absolute accuracy of material presented.