The Bot Brief
"There is no force on earth more powerful than an idea whose time has come."
Victor Hugo
Bots In the News: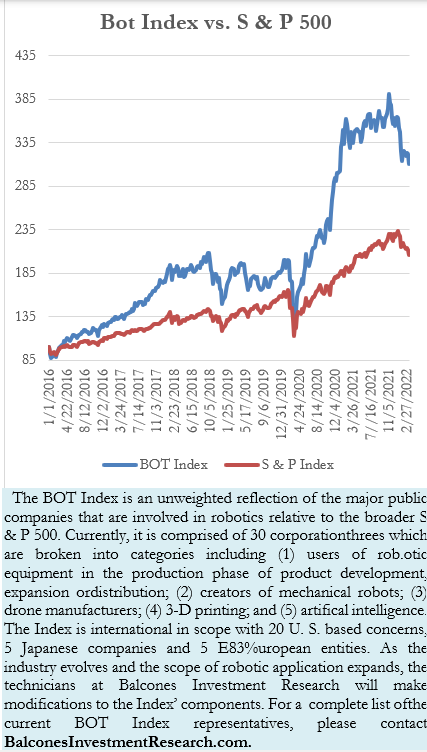 Once again, the markets were impacted by the ongoing twin issues of inflation and geopolitical strife. Consequently, the high beta robotics stocks declined by a bit over 3.5%. The broader market also fell, but by only 2.88%. The Bot Index held only four stocks that were in positive territory for the week.
For the second consecutive week, Oceaneering International led the Bot Index with an 8.56% gain. This follows the 7.28% increase of the prior period. Clearly, the rise in energy prices are convincing investors that oil producers will be in demand for the foreseeable future. The Swiss firm, ABB Ltd. was the second-best performer for the week as it rose 2.59% and AeroVironment rose 2%. Interestingly, despite speculations of an imminent conflict between Taiwan and China, the Taiwanese company, Hiwin Technologies, was one of the only four gainers in the Index.
The only double-digit decline in the Index was attributed to the Chinese EV company NIO Inc. Both NIO and Tesla were impacted by the aberrant market behavior within the nickel industry, as the mineral is a primary component in batteries used by both companies. NIO's fall of 13.74% was exacerbated by its connection to China and the potential to be delisted in the domestic market. Tesla was off 5.12%. Other notable decliners were centered in the Asian market with Yaskawa Electric down 8.43%, Keyence off 5.23% and OMRON Corp. dropping 5.08%.
Intuitive Surgical was the worst performing domestic company as it fell 9.46%. Starting the year at $360 per share, the company has steadily traded down and closed the week at $273.69.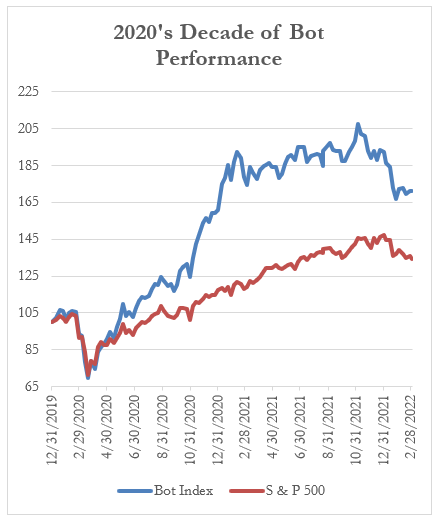 Member: American Economic Association, Society of Professional Journalists, United States Press Association. Institute of Chartered Financial Analysts, Robotic Industries Association, Member IEEE.
The Bot Brief is a weekly newsletter designed for economists, investment specialists, journalists, and academicians. It receives no remuneration from any companies that may from time to time be featured in the brief and its commentaries, analysis, opinions, and research represent the subjective view of Balcones Investment Research, LLC. Due to the complex and rapidly changing nature of the subject matter, the company makes no assurances as to the absolute accuracy of material presented.