The Bot Brief
"There is no force on earth more powerful than an idea whose time has come." -- Victor Hugo
Bots In The News: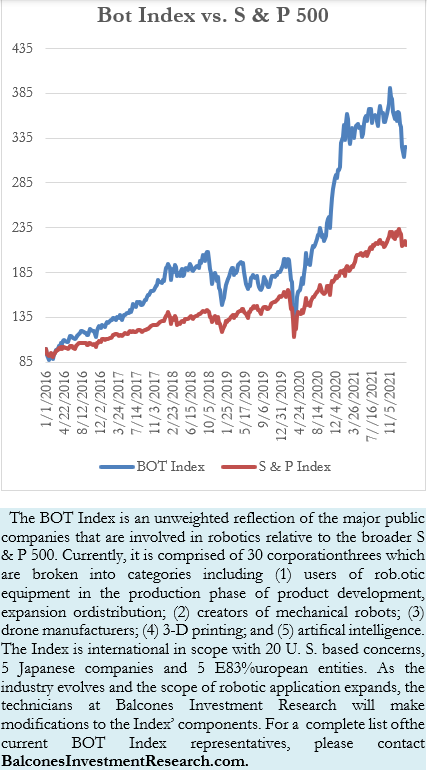 Despite some wild swings in the market due to the extraordinarily high inflation number and economists' inability to accurately gauge what is going on with the employment picture, the Bot Index eked out a small gain for the week. In fact, for two consecutive weeks bots outperformed the broad market, this time, by a couple hundred basis points. Even though the majority of the Bot Index components were in negative territory, the Index gained .225%. Strength was noted in the defense manufacturers, AeroVironment (+7.19%) and Northrup Grumman (+8%). AeroVironment's increase was prefaced by a drone contract award of $10.5 million from an international U.S. ally. Northrup announced its new Navy SEWIP (Surface Electronic Warfare Improvement Program) protection system for a variety of vessels. Basically, once SEWIP Block 3 detects an incoming threat, such as an anti-ship missile, it responds by emitting tight blasts of precisely controlled radio-frequency energy -- attacking as many targets as necessary, simultaneously, and continuing to fire as many times as necessary to defeat all threats. And because this is an energy weapon, SEWIP Block 3 "basically [gives a ship] an unlimited amount of 'bullets' used to defeat those anti-ship missiles. One Wall Street firm suggested the new defense platform could produce billions in revenue for the company. In addition, Investor's Business Daily produced a report entitled, "The Best Defense Stocks for Today – And the Future," which included the company.
Joining the two defense firms was Accuray Inc. (+7.76%) who reported Phase III results of its TomoBreast post-surgical treatment showed an analysis of patient-reported outcomes of a 10-year survival free of heart and lung deterioration was at 84.5% when compared with traditional 66.9% rate of conventional radiotherapy.
Another recall regarding Tesla's Boombox feature will require adjustments to 580,000 vehicles. The Traffic Safety Commission indicated that a safety feature designed to alert pedestrians to the cars' presence could be drowned out by Tesla's "boombox" feature. As a result, the stock fell 6.86% during the week.
Rockwell Automation fell another 4.35% which caps off six consecutive weeks of declining stock values which have taken the stock from $348 to this week's closing price of $268.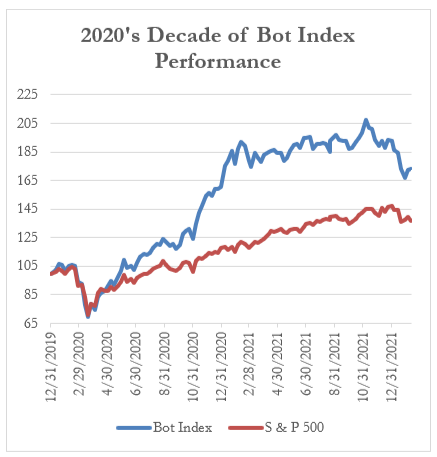 Bot vs Employment Enigma:
Over the centuries there has been considerable debate regarding the impact of automation on employment. Despite the fears of economists and politicians, evidence of the ability of machines to supersede human labor in any massive and permanent amount has only proven the fears to be overdone. In the January 22nd edition of The Economist, the debate continued with its feature entitled, "Economists are revising their views on robots and jobs."
The article cites studies during the 20 teens that expressed fears of an automation explosion that would lead to rising unemployment. An Oxford University 2013 prediction was that 47% of American employment was at risk of robotic replacements. With the advent of the pandemic, the concern was that employers would hasten to invest in robots to take the place of workers to overcome health issues and reduce labor costs. More recently, however, the body of theory is that automation actually enhances employment. The article cited a Yale study of the Japanese economy from 1978 to 2017 that determined that a purchase of one robot per 1,000 workers actually boosted employment by 2.2%. Finally, in another U-turn, The Economist suggested that "even if robots do not create widespread joblessness, they may have helped create an environment where the rewards are 'skewed towards the top.' The feature ends, however, with the statement that "what seems clear at this stage is that the era of sweeping, gloomy narratives about automation is well and truly over."
Member: American Economic Association, Society of Professional Journalists, United States Press Association. Institute of Chartered Financial Analysts, Robotic Industries Association, Member IEEE.
The Bot Brief is a weekly newsletter designed for economists, investment specialists, journalists, and academicians. It receives no remuneration from any companies that may from time to time be featured in the brief and its commentaries, analysis, opinions, and research represent the subjective view of Balcones Investment Research, LLC. Due to the complex and rapidly changing nature of the subject matter, the company makes no assurances as to the absolute accuracy of material presented.