The Bot Brief
"There is no force on earth more powerful than an idea whose time has come." VIctor Hugo
Bots In The News: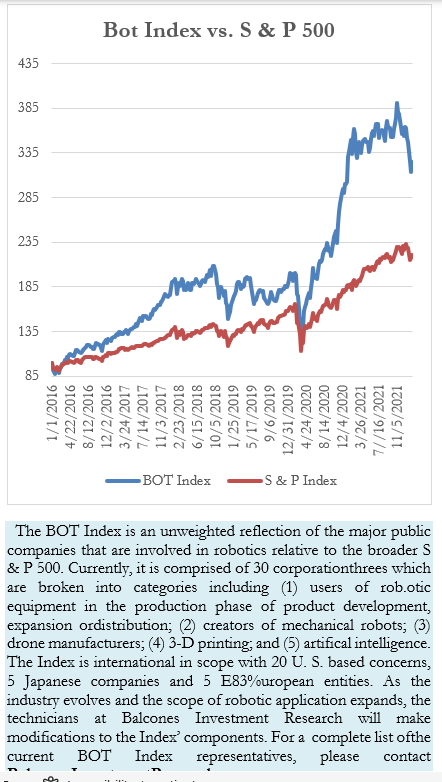 Following a five consecutive week performance disadvantage to the S & P 500, the Bot Index gained 3.47% last week to best the broader index by almost 200 basis points. Positive earnings surprises by several well-known tech companies helped the reappraisal of the sector by investors. Both Google (Alphabet) and Amazon stocks were beneficiaries of better-than-expected earnings, as well as Google's announcement of a twenty to one July stock split. Amazon led the big tech rally with a 9.50% jump when its management announced it had recorded a gain in 4th quarter earnings to $14.3 billion, up from $7.2 billion in year over year comparisons. The move proved the best one-day value gain in U.S. history as $190 billion was added to the market worth. Google rose 7.29% following its 38% and 32% respective earnings and revenue gains in the fourth quarter.
The best performer within the Bot Index was recorded by NIO Inc. who jumped 14.64%. Together with fellow electric car company – Tesla (+9.09%) the two combined to provide the largest contributing factor to the Bot Index' superior performance for the week. Other notable gainers included NVIDIA Corp. (+6.48%) who was the subject of a Barron's' Magazine suggestion that the company belongs in the Dow Jones Industrial Average; 3D Systems that was included in Cathie Woods' Ark Investment Management's top 6 tech holdings; iRobot (+5%) was included in a Wall Street report suggesting it was 46% below its intrinsic value; and Intuitive Surgical (+5.13%) inclusion in a Motley Fool report entitled "3 Best Unstoppable Stocks to Own in 2022) prompted its upswing.
There were only three stocks that were down in any notable fashion: Northrup Grumman Corp. (-2.75%), Rockwell Automation (-1.34%) and Cyberdyne (-1.62%).
2020's Decade of Bot Index Performance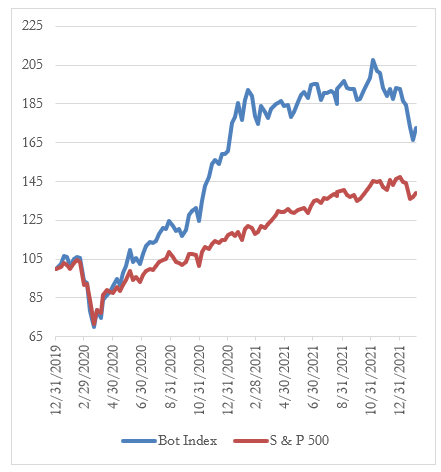 Bot Sea and Space:
The Bot Brief has frequently commented on the opportunities for robotic use in undersea and outer space mining and exploration. Both hostile climates present impossibilities or, at least improbabilities, for human activities, however, are not outside the capabilities of specialized robots. The January 8th edition of The Economist and IEEE's January Spectrum each carried features addressing these unique opportunities.
In "Greenhouses in the sky", The Economist harped on recent ventures to grow plants in the International Space Station. The interesting feature is that plants have difficulties in dealing with a zero gravity which stresses the plants into an increased level of genetic mutation. From a farming perspective, these mutations can be culled that have specific characteristics that make them better on earth. China has already established 30 such space plantings with a result of developing 200 improved crop varieties. The U.S. is focusing on a company named StarLab Oasis that has sent seeds to the ISS to be cultivated by astronauts. The ultimate goal of StarLab is working with Bot Index component – Lockheed Martin, to create its own space station for the specific goal of plant breeding for commercial applications.
While the Bot Brief has presented several features on the JAMSTEC mining of manganese nodules within the Economic Enterprise Zones of the Sea of Japan, the overwhelming consumer success for electric vehicles (EV) has created a new demand for several minerals in the seabed. The Spectrum article noted the widespread discovery of potato size nodules that are rich in manganese, nickel, copper and cobalt. The periodical cited the International Energy Agency's estimate of 145 million EV's on the road by 2030. A domestic firm by the name of The Metals Company has created a robotic vehicle that is 12 meters in length and weighs in at 80 tons. The robot will be towed by an ex-oil drilling ship – The Hidden Gem, in three different Pacific regions where it has secured exploration rights. If tests this year prove commercially viable and environmental issues are negligible, the company hopes to add more 'mining' vessels.
Member: American Economic Association, Society of Professional Journalists, United States Press Association. Institute of Chartered Financial Analysts, Robotic Industries Association, Member IEEE.
The Bot Brief is a weekly newsletter designed for economists, investment specialists, journalists, and academicians. It receives no remuneration from any companies that may from time to time be featured in the brief and its commentaries, analysis, opinions, and research represent the subjective view of Balcones Investment Research, LLC. Due to the complex and rapidly changing nature of the subject matter, the company makes no assurances as to the absolute accuracy of material presented.