The Bot Brief
"There is no force on earth more powerful than an idea whose time has come."
- Victor Hugo
Bots In The News: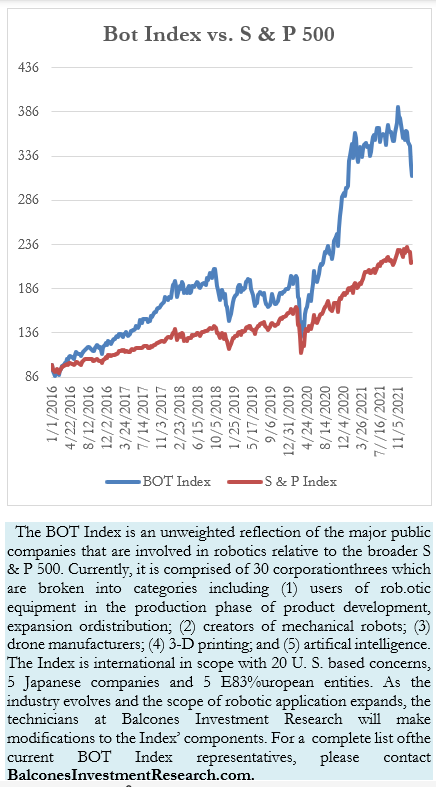 While not as bad as the prior week, the bots again stumbled relative to the broad market. The Bot Index gave up 3.6% while the S & P 500 advanced 77 basis points. While there was little to cheer within the composite, a few names did serve their shareholders well. Oceaneering International led the pack with a 7.20% gain primarily due to rising oil prices. A major Wall Street analyst projected that oil could go as high as $100 in the not distant future. With Eastern Europe in political turmoil and potentially armed conflict, investors turned to defense manufacturers as an opportunity. Lockheed Martin gained nearly six percent while Raytheon Technologies jumped 3.58%. Azenta recovered during the week to increase almost 2%. The stock has suffered significantly, having dropped 9.2%, 6.4% and 11.3% in the consecutive weeks before this week's turnaround.
The losers within the Index were led by the 14.32% tumble by Accuray Inc. The company reported flat earnings for the quarter versus a nickel gain in the prior year's quarter. Faro Technologies declined 13.45% and Tesla surrendered 10.34% of its value. While Rockwell Automation declined 9.44%, its earnings report was not the culprit. The company announced a revenue gain of 18.7% year over year and reinforced guidance for 2022 of $10.50 to $11.10.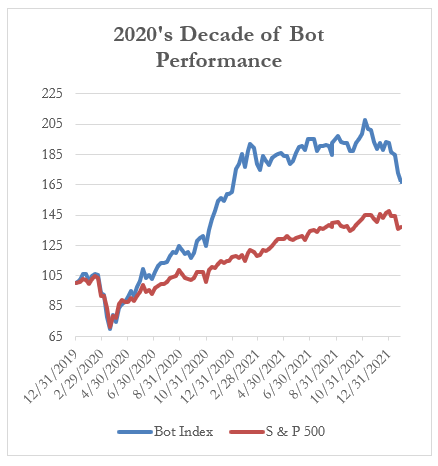 Tesla Productivity:
Bloomberg News just ran a story regarding the fact that Tesla produced more cars per week last year than any other automobile manufacturer's single plant. The company produced 8,550 average weekly finished vehicles in its Fremont, California facility. While it is still a small factor in worldwide annual automobile production, its Fremont and Shanghai plants are expected to grow by 50%, while it is developing fabrication from new Austin and Berlin-Brandenburg plants. Musk's concept of extended production lines and early investment in battery and raw materials has served the company well in this period of supply chain interruptions.
Member: American Economic Association, Society of Professional Journalists, United States Press Association. Institute of Chartered Financial Analysts, Robotic Industries Association, Member IEEE.
The Bot Brief is a weekly newsletter designed for economists, investment specialists, journalists, and academicians. It receives no remuneration from any companies that may from time to time be featured in the brief and its commentaries, analysis, opinions, and research represent the subjective view of Balcones Investment Research, LLC. Due to the complex and rapidly changing nature of the subject matter, the company makes no assurances as to the absolute accuracy of material presented.