The Bot Brief
"There is no force on earth more powerful than an idea whose time has come."
- Victor Hugo
Bots in The News: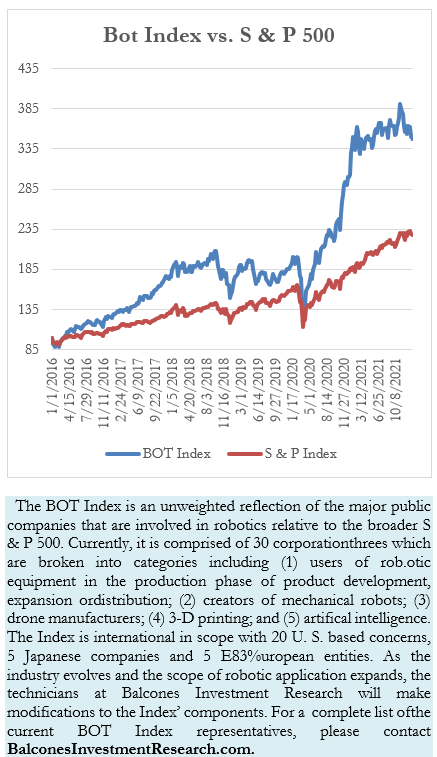 With the sole exception of Intuitive Surgical's 5.10% decline, the Bot Index's underperformance this week was entirely due to its Asian holdings. Yaskawa Electric led the losers with an almost 8% drop while Hiwin Technologies, Fanuc Corp., Keyence and OMRON fell 6.37%, 6.22%, 6%, and 4.36% respectively. The entire Index declined 1.15%, some 83 basis points below the S & P 500.
With the price of oil jumping to nearly $85 a barrel, it is no wonder that the Bot Index gainers were led by Oceaneering International. The stock rose 7.48% for the week. Rumors hit Wall Street regarding the potential for a Russian invasion of the Ukraine in February which helped to boost two defense stocks within the Index. Lockheed Martin jumped 3.46% while Raytheon Technologies added 2%.
Shares of both NIO Inc. (+5.63%) and Tesla (+2.21%) were stimulated by the year-end report where China announced that full-year deliveries of new energy vehicles skyrocketed 169% to a record 2.99 million units. Sales of EVs in China more than doubled in November and December. Deliveries jumped 122.3% and 138.9% year over year in November and December to total 378,000 and 505,000 units, respectively. The shares of NIO were further enhanced by a report regarding a consensus of Wall Street analysts that have the stock moving up 97% this year, with one outlier having the shares reach $80 per share, a 150% increase.
Implications of Technology on Product Innovation:
In the December edition of the American Economic Review, professors from the University of Maryland, Hitotsubasi University, the University of Tokyo and the University of Chicago explored the impact of vertical new product introduction on successful new products outside the firm's traditional product line. The authors found that, "trying to introduce innovative products beyond the firm's previous technologically feasible set, even if such trials fail, is a key to firm growth. Indeed, it mostly facilitates growth through the firm's later success in horizontal product diversification." The very attempt to develop vertical new products utilizing technology and capital contributed successfully to future product expansion which, in turn, fueled firm growth. The article cited a prior analysis by Katila, Riitta, and Gautam Ahuja regarding the robotics industry that "Firms can differentiate themselves not only as to the extent to which they explore new things, but also as to the extent to which they master the old ones."
In summary on the application of technology advances in firm product develoyment (both vertically and laterally) the authors concluded: "Firms that did not introduce technologically challenging innovative products were confined to a narrow product variety range and infrequent product changeovers. Envelope-pushing firms, on the other hand, changed their product portfolios frequently and expanded their overall scope."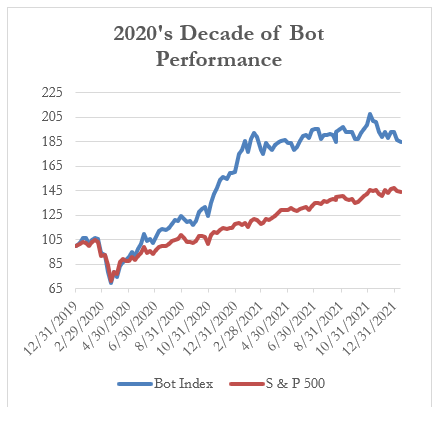 Member: American Economic Association, Society of Professional Journalists, United States Press Association. Institute of Chartered Financial Analysts, Robotic Industries Association, Member IEEE.
The Bot Brief is a weekly newsletter designed for economists, investment specialists, journalists, and academicians. It receives no remuneration from any companies that may from time to time be featured in the brief and its commentaries, analysis, opinions, and research represent the subjective view of Balcones Investment Research, LLC. Due to the complex and rapidly changing nature of the subject matter, the company makes no assurances as to the absolute accuracy of material presented.