The Bot Brief
"There is no force on earth more powerful than an idea whose time has come."
- Victor Hugo
Bots in The News: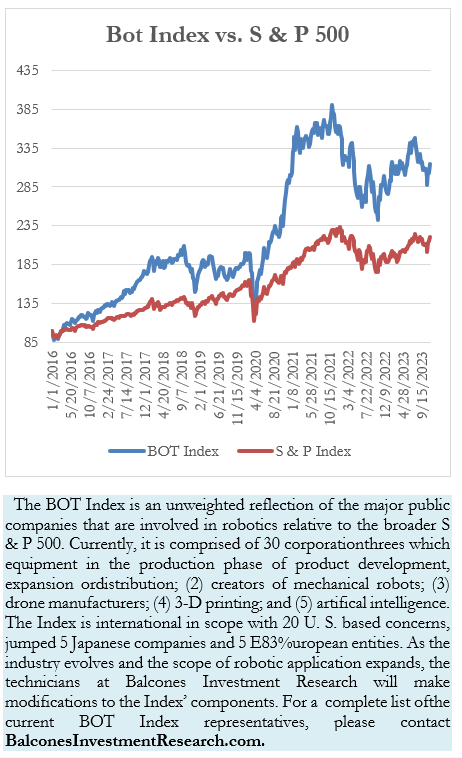 Reports from the CPI and PPI indicated a weakening in the inflation rate this week which led investors to assume the Fed may turn dovish in coming months. The stock markets across the globe rallied significantly, carrying the S & P 500 up 2.24% while the Bot Index rose 3.77%.
Five bot stocks led the resurgence of the Bot Index, each with double-digit or near returns for the week. Azenta Corp. led the bots with its 16.05% surge. The company reported earnings of 6 cents per share versus a decline of 28 cents in the year over year comparison. Fourth quarter revenues rose 25% and annual sales were 20% above comparables. The company also announced a significant share repurchase program.
3D Systems gained 15.51% following an FDA approval for 3D printed denture bases for support of artificial teeth. The low-priced stock has been quite volatile over the past few months.
Cathy Woods' Arc Investment platform made incremental commitments to Intuitive Surgical which helped propel the stock up just over 10%. The Motley Fool suggested, "A bargain stock to pick up now."
Faro Corp. continued its string of strong weekly performances with an 8.51% gain last week. The company's lead independent investor added $515 of his holdings. The stock has been up on strong volume throughout November.
Tesla gained 9.15% in a bounce from its October weakness.
The haptics firm Immersion Corp. was the only significant loser for the week, turning in a 4.6% decline.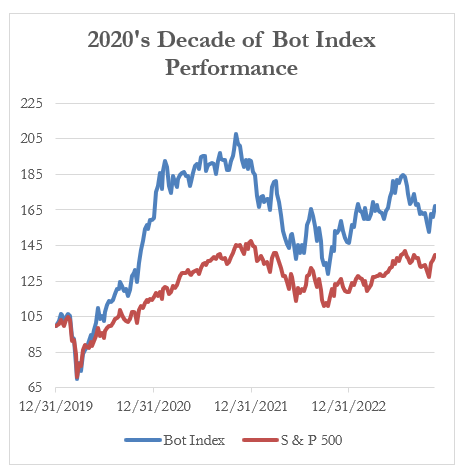 Member: American Economic Association, Society of Professional Journalists, United States Press Association. Institute of Chartered Financial Analysts, Robotic Industries Association (now A3 Automation), Member IEEE.
The Bot Brief is a weekly newsletter designed for economists, investment specialists, journalists, and academicians. It receives no remuneration from any companies that may from time to time be featured in the brief and its commentaries, analysis, opinions, and research represent the subjective view of Balcones Investment Research, LLC. Due to the complex and rapidly changing nature of the subject matter, the company makes no assurances as to the absolute accuracy of the material presented.