Ten Live ABB Robotic Applications to Feature New Metal Fab Technology and Simplified Programming at FABTECH 2012
Highlights include new robots, complete welding cells, cutting systems and advancements that reduce programming and operational complexity

AUBURN HILLS, Mich. – ABB Robotics will feature ten live application demos highlighting a comprehensive range of new metal fabrication systems and user friendly programming and operational advancements at FABTECH 2012, November 12-14 at the Las Vegas Convention Center (Booth # N-6102). The live demos, comprised of ten fully operational robots, include the new IRB 1520ID arc welding robot, an IRB 360 FlexPicker sorting component workpieces, a new FlexArc cell with IRB 2600ID welding robot for sale at a special show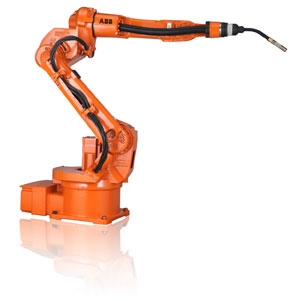 price, and the IRB 800, a 10-axis long reach welding system featuring one robot attached to the arm of another. All include varying aspects of ABB's ongoing mission to develop robotic software that reduce programming complexity and create an intuitive human machine interface for production operation.

Five additional robot displays include the new IRB 1520ID Two-station ArcPack, an entry level welding package, and the IRB 1600, 2600 and 4400 robots, one dressed in Hypertherm plasma cutting equipment, one in Thermadyne plasma cutting equipment, and one with a TAFA plasma spray system. Like FABTECH 2011, booth attendees will be able to leave with a parting gift! One live demo will fabricate mini metal Adirondack chair business card holders; and a larger than life slot machine activated by players pulling the arm of a robot will award prizes throughout the day, including ABB laptop backpacks, for those who get three identical robot icons on the large overhead screens.

"We are pleased to display such a diverse group of operational systems at FABTECH, and feel it will help attendees better understand how ABB robotic technology can improve performance in their specific applications," said Erwin DiMalanta, senior manager, ABB Robotics. "From the simple to the most complex needs, ABB covers the full range in welding, cutting and metal fabrication."

Further detail on the ABB FABTECH 2012 booth displays:

IRB 1520 Arc Welding Robot and Two-station ArcPack Welding Package

ABB's newest robot, the IRB 1520ID, an attractively priced, high performance addition to ABB's dedicated arc welding family is featured in two demos. One is welding the mini chairs, and another is the robot in the Two-station ArcPack welding system. The new IRB 1520ID is compact, versatile and fast, the ideal robot for welding small parts. The IRB 1520ID Two-station ArcPack welding system is designed to be a modular, cost-effective, and compact means to initiate or upgrade an automated welding operation.

IRB 360 FlexPicker

Assisting in the chair welding demo is an IRB 360 FlexPicker, the most widely used Delta robot on the market with over 5,000 worldwide installations since 1997. Typically used for picking and packing in the food, pharmaceutical, and medical industries, the FlexPicker will demonstrate its versatility by sorting, picking and placing the components of the chairs to be welded.

FlexArc 500B Welding Cell

Available for sale at a special show price is a new FlexArc 500B cell, complete with an IRB 2600ID robot, a 500B workpiece positioner, and new graphical user interface with flexible widget utilities to customize the operator and maintenance screens on the Teach Pendant. The new interface is easier to program and operate, requiring no code, simply click and go. To display the ability of the cell to reach all areas on parts of a complex geometry, the IRB 2600ID will simulate the welding of a small quad off-road vehicle frame on the two-axis B positioner, and a large (500kg, 1100lb) Baldor motor body on the second station.

IRB 800 10-axis High Speed Welding System

The giant 10-axis welding system is an IRB 140 robot with Fronius twin wire welding equipment, attached to the arm of a larger IRB 660 robot. The system provides an economical alternative to a robot traveling on a traditional gantry column, and, with a smaller footprint, longer reach (3.1m), and the ability to sequentially work in four separate welding quadrants from a fixed position, significantly better cycle times. Ideal for welding large parts, the system is simulating the welding of an off-road vehicle chassis.

Robot Arm Slot Machine

The arm of an IRB 1600ID robot acts as a lever to activate the spinning reels displayed on three 60" screens above the game station. A laser floor scan and ABB's SafeMove and Softservo software are integrated to enable an unusually intimate human/machine operation of the robot arm. SafeMove is an electronics based safety system integrated in the IRC5 robot controller. It provides safety rated supervision of robot motion, enabling leaner robot cell solutions and more collaborative applications where robots and operators can work more closely together. Softservo is used for manipulator compliance. Prizes range from golf tees to the highly sought ABB laptop backpacks. All a contestant needs to win is enough luck to align three identical robot icons on the overhead screens. The slot machine game was programmed in ABB's RobotStudio simulation software with the assistance of andyRobot, the mastermind behind the RoboScreens (giant video screens attached to the arms of ABB robots) featured in the recent Bon Jovi Circle Tour. ABB and andyRobot are currently developing an array of new robotic concepts for the entertainment industry.

Four Robot Simulated Production Cell

A simulated production cell comprised of four ABB robots of differing sizes, reaches and payloads highlighting the accurate coordination of complex motion patterns the MultiMove™ function of ABB's IRC5 controller enables. Utilizing a single controller, the MultiMove standard programming instructions move the robots in fully coordinated motion to collaboratively work on the same part or within the same manufacturing process. One robot can hold the part while one or more robots perform processes such as welding cutting or gluing.

Laser Welding and Cutting

Also highlighted will be the LaserMech FiberCut Series 3D cutting head included in pre-engineered ABB LaserCut™ cells, and the Presitec YW 30 laser welding head included in ABB LaserWeld™ cells. Robotic laser processing is one of the fastest growing technologies in metal fabrication, and has emerged in a variety of applications including those involved with hot-stamp steels, tubular parts, hydroform components and traditional flat sheet cutting. ABB's standardized robotic laser processing cells are proven, high-performance solutions with the flexibility to handle a wide range of laser projects.

Additional ABB robots featured in the FABTECH 2012 booth include:
IRB6600 Kranendonk – Submerged Arc Welding – Global launch of the new compact head
IRB4400/60 Dressed with TAFA Plasma Spray head
IRB2600ID Dressed with Hypertherm Plasma cutting
IRB2600ID Dressed with Thermadyne Plasma cutting
About ABB

ABB is a leader in power and automation technologies that enable utility and industry customers to improve their performance while lowering environmental impact. The ABB Group of companies operates in around 100 countries and employs about 130,000 people.

About ABB Robotics

ABB Robotics (www.abb.com/robotics) is a leading supplier of industrial robots - also providing robot software, peripheral equipment, modular manufacturing cells and service for tasks such as welding, handling, assembly, painting and finishing, picking, packing, palletizing and machine tending. Key markets include automotive, plastics, metal fabrication, foundry, electronics, machine tools, pharmaceutical and food and beverage industries. A strong solutions focus helps manufacturers improve productivity, product quality and worker safety. ABB has installed more than 200,000 robots worldwide.