Teledyne DALSA to Present at "Radiation Effects on Optoelectronic Detectors" Workshop
Teledyne DALSA, a Teledyne Technologies company and global leader in image sensors, will present at the upcoming Radiation Effects on Optoelectronic Detectors Workshop on November 26 in Toulouse, France. Owen Cherry, a Design Specialist in Imaging Science & Technology, will discuss "Gamma Ray and Proton Beam Exposures of Teledyne DALSA 5T Pixel Structures" and provide an "Outlook for Future Radiation Hard Devices."

Who: Owen Cherry, Design Specialist, Teledyne DALSA
What: Presentation: "Gamma Ray and Proton Beam Exposures of Teledyne DALSA 5T Pixel Structures and Outlook for Future Radiation Hard Devices."
Where: ENAC, 7 Avenue Edouard Belin, Toulouse, France
When: 11:50 a.m. (Session A4) on Wednesday, November 26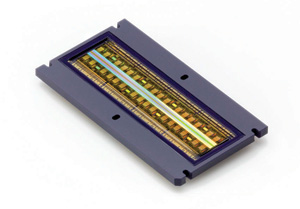 Optoelectronic detectors are key elements in space instruments, and their performance has a direct impact on the overall mission capability. In space, radiation could strongly degrade the performance characteristics of these sensors and even prevent their operations. Current and future space programs are more demanding in terms of lifetime and of End-of-Life performance commitments, requesting deeper on-ground investigations. In addition, the evolution of CMOS technologies induces new questions about the behavior of many detectors in space. The aim of this workshop is to focus on those effects either during ground tests or in-flight data, on all types of detectors and technologies.

Teledyne DALSA offers custom image sensors and cameras for visible and NIR astronomy and supplies the highest resolution monolithic devices in the world, with features such as extremely low noise for long exposures and antiblooming to contain localized overexposure.

About Teledyne DALSA
Teledyne DALSA image sensors, cameras, smart cameras, frame grabbers, software, and vision solutions are used in thousands of automated inspection systems around the world and across multiple industries including semiconductor, flat panel display, electronics, automotive, entertainment, medical, packaging and general manufacturing.
An international leader in digital imaging and semiconductors with approximately 1,000 employees worldwide and headquartered in Waterloo Canada, the company designs and manufactures imaging products and solutions, in addition to providing specialized semiconductor products and services.