Teledyne DALSA's New Low-Cost Vision Sensor Improves Quality and Lowers Manufacturing Costs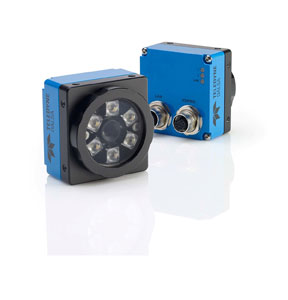 Quick setup and easy integration are the hallmarks of the new BOA Spot
Waterloo, Ontario - Teledyne DALSA, a Teledyne Technologies company and global leader in machine vision components and solutions, announced today its new BOA™ Spot vision sensors, low-cost and easy-to-integrate vision solutions for quality inspections on the factory floor.
BOA Spot vision sensors offer simplicity, affordability and reliable inspection performance for a range of error-proofing applications. The new sensors combine the power and flexibility of a BOA vision system with integrated LED lighting, lens cover, and easy-to-use software to deliver high value capabilities at a low cost of ownership. Available with 640 x 480 or 1280 x 960 image resolution, BOA Spot vision sensors can inspect multiple part features at the same time, at higher speeds and with greater accuracy than traditional photoelectric sensors. Embedded vision tools for part locating, feature finding, counting and measuring applications, offer a simple graphic user interface and can be combined and used numerous times to solve simple or complex inspection tasks. And its robust build quality with IP67 rating means Spot is at home in harsh industrial/wash down conditions.
"Adding vision to your manufacturing process is simple and affordable with our new BOA Spot vision sensors," commented Steve Geraghty, Vice-President, Industrial Vision Solutions at Teledyne DALSA. "This latest BOA series is quick to setup and capable of communicating with a broad range of factory devices, making it an easy choice for companies looking to expand their automation with vision." Inspections using BOA Spot vision sensors can be triggered by parts in motion or from a PLC after being moved into a stationary position. Standard factory protocols, such as Ethernet/IP and PROFINET, are directly supported for communicating with 3rd party equipment or the factory enterprise.
Thru- and surface-mounting options and a slim form factor lend automation and system developers the benefit of positioning the BOA Spot in tight places.
Camera Details & Availability
The BOA Spot is available immediately. For more information, including product specifications and ordering details, visit the BOA Spot page on the Teledyne DALSA website or contact your Teledyne DALSA regional sales representative. For a downloadable image of the camera, please visit Teledyne DALSA's online media kit.
About Teledyne DALSA's Machine Vision Products and Services
Teledyne DALSA is a world leader in the design, manufacture and deployment of digital imaging components for machine vision. Teledyne DALSA image sensors, cameras, smart cameras, frame grabbers, and software are used in automated inspection systems across many industries and applications.
About Teledyne DALSA, Inc.
Teledyne DALSA, a Teledyne Technologies company, is an international leader in high performance digital imaging and semiconductors. The company designs, develops, manufactures and markets digital imaging products and solutions, in addition to providing specialized semiconductor products and services including MEMS.
Embedded Vision
This content is part of the Embedded Vision curated collection. To learn more about Embedded Vision,
click here
.