Teledyne DALSA's New CMOS TDI Cameras Deliver Improved Detectability for High-Speed Imaging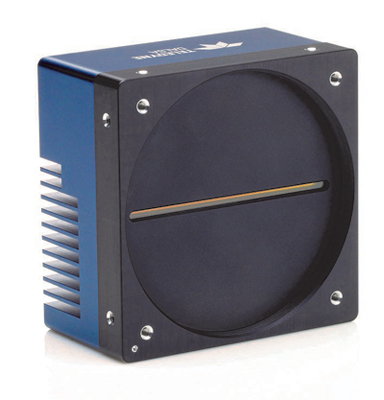 New Piranha XL XDR models offer extended dynamic range and better signal to noise ratio
WATERLOO, Ontario - Teledyne DALSA, a Teledyne Technologies company and a global leader in machine vision, announced today the addition of two new 16k models to its industry-leading Piranha™ XL CMOS TDI line scan series. These latest models are optimized to provide extended dynamic range, better signal-to-noise ratio and improved overall performance in a wide range of lighting conditions. Like the Piranha XL, the new XDR models are built around the AIA's Camera Link HS interface standard.
The Piranha XL 16k models offer the latest in multi-line CMOS TDI (Time Delay and Integration) technology, delivering unprecedented speed and responsivity with low noise in a compact design. Employing Teledyne DALSA's most advanced CMOS sensor architecture, the new XDR models deliver even higher image quality for high-speed applications with throughput of up to 2 Gbytes per second on a single CX4 cable. A field-proven industry-standard CLHS interface and built-in Trigger to Image Reliability (T2IR) framework safeguards every bit in the camera's full 2.0 GB/s data throughput. Not only does CLHS inherently provide data resend and immunity from single bit errors, Teledyne DALSA's T2IR provides monitoring, diagnostics, track and trace, and buffers to prevent data loss.
Key features:
Improved signal-to-noise ratio ensures better detection of smaller defects in various lighting conditions
High speed and high resolution means faster throughput with fewer cameras for lower system cost
High responsivity (up to 1,200 DN/njcm2 in 12 bit at 1x gain) for increased sensitivity in light starved conditions and lower lighting costs
Selectable 8 or 12 row mode delivers the flexibility to meet a larger number of inspection needs
"Key OEMs have designed in our Piranha XL cameras for flat panel display (FPD) and printed circuit board (PCB) automatic optical inspection. The new XDR models will provide even better image quality and detectability" commented Xing-Fei He, Senior Product Manager. "The field-proven and reliable data transfer Camera Link HS delivers is also one of the features required for mission critical applications." The new XDR models are ideal for integration into flat panel, electronics, and semiconductor inspection, among other applications. When combined with Teledyne DALSA's Xtium-CLHS frame grabber, system designers can expect reduced inspection and manufacturing costs and the unparalleled and reliable transfer of information at extreme speeds. Piranha XL-XDR models are in production now.
About Teledyne DALSA
Teledyne DALSA image sensors, cameras, smart cameras, frame grabbers, software, and vision solutions are used in thousands of automated inspection systems around the world and across multiple industries including semiconductor, solar cell, flat panel display, electronics, automotive, medical, packaging and general manufacturing.
An international leader in digital imaging and semiconductors with approximately 1,000 employees worldwide and headquartered in Waterloo Canada, the company designs and manufactures imaging products and solutions, in addition to providing specialized semiconductor products and services.
Company Contact
Geralyn Miller, Manager, Media Relations
Tel: +1-519-886-6001 x2187