Teledyne DALSA and Teledyne e2v to demonstrate their best-in-class vision solutions as Teledyne Imaging at ITE 2018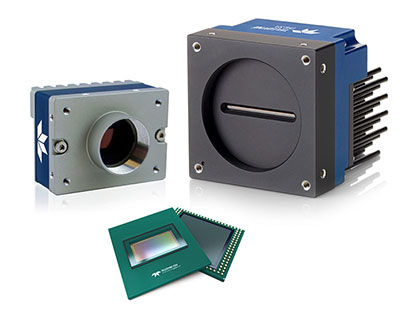 Teledyne Imaging will showcase its latest imaging innovations at ITE 2018
WATERLOO, Canada – Teledyne DALSA and Teledyne e2v, both Teledyne Technologies [NYSE: TDY] companies are pleased to announce their combined presence as Teledyne Imaging at the International Technical Exhibition on Imaging Technology & Equipment (ITE) 2018, December 5-7, in PACIFICO Yokohama Hall D, Japan. Visit booth D-01 to see their newest and most advanced vision solutions.
Visitors to the Teledyne Imaging booth can meet with our subject matter experts who will provide insight on upcoming product developments and advancements for for tomorrow's most demanding imaging challenges.
The following products will be at the show, including several new product introductions:
CMOS image sensors – New image sensors from Teledyne e2v's Snappy and Emerald series, including 2, 5, 8.9, 12, and 16M detectors that enable fast and accurate digital processing, and combine full HD resolution with a 2.8 μm pixel low-noise global shutter for high-speed scanning.
Calibir – Outstanding uncooled long wave infrared imaging and great flexibility in a compact package. Adaptive contrast enhancement, shutterless operation, and VGA resolution with multiple output and lens options
Genie Nano 5GigE – New, the industry's first 5 Gigabit, GigE Vision area cameras with data rates equivalent to 985MB/sec with TurboDrive for fast, high resolution imaging over long cable distances.
Genie Nano CXP – A preview of the Teledyne DALSA's first CoaXPress interface area scan camera 25 M pixel model, offering high-resolution throughput equivalent to 2 GB/sec.
Linea HS – Preview this high-speed, high-sensitivity 16K CMOS TDI camera, with 300kHz line rate and next generation fiber optic interface for high bandwidth, long cable length, low system costs, and high reliability data transmission.
Linea ML – New, cost-efficient and powerful, Linea ML 8k/16K line scan cameras. Linea ML offers versatile functionalities with mono/HDR, color, multispectral, and multi-field image capture.
Piranha4 Color – Preview the 8k tri-linear color line scan camera, built to deliver cost-efficient, high-resolution imaging for color inspection.
Xtium2 – New, high-performance and fiber-optic enabled frame grabbers support Camera Link HS®, CoaXpress® (ver 2.0) and Camera Link® interface standards. With the Linea ML and Linea HS, the Xtium2 enables the most demanding vision applications.
Z-Trak – Preview the high-resolution, factory-calibrated laser profiling camera designed for industrial applications requiring object height measurement.
Please visit the Teledyne Imaging team in PACIFICO Yokohama Hall D, Japan, December 5-7, 2018 in Booth D-01.
About Teledyne Imaging's Vision Solutions
Teledyne Imaging is a group of leading-edge companies aligned under the Teledyne umbrella. Teledyne Imaging forms an unrivalled collective of expertise across the spectrum and decades of experience. Individually, each company offers best-in-class solutions. Together, they combine and leverage each other's strengths to provide the deepest, widest imaging and related technology portfolio in the world. From aerospace through industrial inspection, radiography and radiotherapy, geospatial surveying, and advanced MEMS and semiconductor solutions, Teledyne Imaging offers world-wide customer support and the technical expertise to handle the toughest tasks. Their tools, technologies, and vision solutions are built to deliver to their customers a unique and competitive advantage.