Teledyne DALSA Adds Six New Models to its Low-Cost, GigE Camera Series
an class="cms-plainsubTitle">New Genie™ Nano Models Deliver Color, Monochrome and NIR Imaging in a Small Robust Housing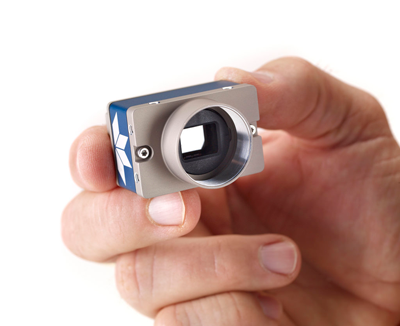 Teledyne DALSA, a Teledyne Technologies company and global leader in machine vision technology, today announced the extension of its Genie Nano series of affordable, easy-to-use GigE Vision® cameras. New color, monochrome and NIR models feature ON Semiconductor's 2 and 5 megapixel Python image sensors for fast, high resolution vision across a wide range of applications.

These six models, the M1930, C1930, M1930-NIR, M2590, C2590, and M2590-NIR are built around ON-Semiconductor's Python 2000 and 5000 monochrome and color sensors respectively. Designed for industrial imaging applications with Teledyne DALSA's patent-pending TurboDrive™ technology, these latest Genies are capable of breakthrough data transfer at 2 or even 3 times the standard GigE Vision rates. The Genie Nano series also takes full advantage of the Sapera™ LT Software Development Kit (SDK) and field proven Trigger-to-Image-Reliability™ framework for full system-level monitoring, control, and diagnostics from image capture through transfer to host memory.

Key Features:

TurboDrive for fast frame rates and full image quality
Trigger-to-Image-Reliability for easy system control and debugging
Small footprint for tight spaces - 44mm x 29mm x 21mm
Wide temperature range (-20 to 60°C) housing for imaging in harsh environments
2 inputs/2 opto-coupled outputs for easy integration and deployment
Light weight – only 46 grams
"We are excited to add 6 new cameras to our existing portfolio of 13 Genie Nano models," commented Manny Romero, Senior Product Manager for Teledyne DALSA. "With an ever-widening selection of color, NIR and monochrome models to choose from, system designers have both choice and flexibility to resolve a multitude of imaging challenges."

Genie Nano cameras feature a robust design backed by a 3-year warranty and are suitable for a wide range of applications including intelligent traffic systems (ITS), entertainment, medical, food and beverage inspection, and electronics and printed circuit board (PCB) inspection, among many others. Please visit the Genie Nano product page for more information. For sales enquiries, visit our contact page, and for full resolution images, our online media kit.

About Teledyne DALSA's Machine Vision Products and Services
Teledyne DALSA is a world leader in the design, manufacture and deployment of digital imaging components for the machine vision market. Teledyne DALSA image sensors, cameras, smart cameras, frame grabbers, software, and vision solutions are used in thousands of automated inspection systems around the world and across multiple industries including semiconductor, solar cell, flat panel display, electronics, automotive, medical, packaging and general manufacturing.

About Teledyne DALSA, Inc.
Teledyne DALSA, a Teledyne Technologies company, is an international leader in high performance digital imaging and semiconductors with approximately 1,000 employees worldwide, headquartered in Waterloo, Ontario, Canada. Established in 1980, the company designs, develops, manufactures and markets digital imaging products and solutions, in addition to providing specialized semiconductor products and services including MEMS.