TECHSPEC® SWIR Fixed Focal Length Imaging Lenses
Commercial off-the-shelf (COTS) SWIR lenses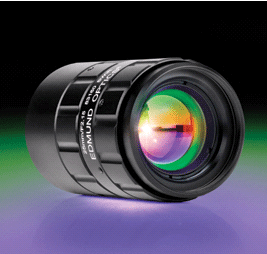 Edmund Optics® (EO), the premier provider of optical components, introduces TECHSPEC® SWIR Fixed Focal Length Imaging Lenses. These commercially available lenses are designed, coated and tested for SWIR wavelengths. While other SWIR lenses are merely coated, EO manufactures their SWIR lenses from optical elements that are specifically designed and dedicated for SWIR wavelengths.

"It is essential to select components that are designed, optimized and coated for the SWIR wavelength range to ensure the highest resolution," said Nicholas James, Product Manager, Edmund Optics. James added, "Using lenses designed for the visible spectrum results in images that are defocused and contain high amounts of chromatic aberration."

Low f# for high throughput
TECHSPEC SWIR Fixed Focal Length Imaging Lenses, designed for short-wave infrared (SWIR) wavelengths of 0.9 to 1.7μm, are now available in a 50mm focal length in addition to our 25mm focal length option. Our 50mm is offered with C-Mount, F-Mount and M42 x 1.0mm options in order to work on a wide selection of SWIR cameras. They feature a Broadband Anti-reflection (BBAR) coating from 800 nm to 1.8μm to optimize transmission. SWIR Fixed Focal Length Imaging Lenses have low f/#s for high throughput and excellent performance.

Designed to cover 25 mm sensors
SWIR FFL lenses are commercial off-the-shelf lenses (COTS), designed to cover large 25 mm sensors. The lenses serve as an ideal solution for SWIR imaging applications, including inspection, sorting and quality control. EO Lens assemblies use glasses that allow the design to be optimized for the SWIR spectrum.

Stop by the Edmund Optics booth #1206 at the SPIE Defense, Security and Sensing Show or booth #510 at The Vision Show to see the full array of Edmund Optics TECHSPEC SWIR lenses. SWIR lenses are in-stock and available for immediate delivery for fast turnaround and excellent value.