TECHSPEC® PCX Lenses
style="font: bold 14px/18px Arial,Helvetica,sans-serif; color: rgb(136, 170, 0);">Ideal for high precision laser and metrology applications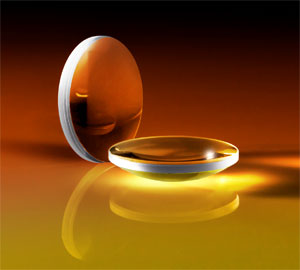 Edmund Optics® (EO), the premier provider of optical components, introduces its new TECHSPEC® λ/20 PCX Lenses. These lenses are ideal for a wide range of uses requiring minimal wavefront distortion, including laser and metrology applications.

Precision Fused Silica Substrate
TECHSPEC λ/20 PCX Lenses feature a precision fused silica substrate, λ/20 surface accuracy and impressive 20-10 surface quality -- all characteristics needed for high precision use in demanding environments. These RoHS-compliant lenses have a wavelength range of 0.2 - 2.2 μm and a clear aperture of 24.

Full Data Package Included
Each TECHSPEC λ/20 PCX Lens is available with a full data package that includes interferogram and measured results for diameter, radius, center thickness and centration. The precision PCX Lenses are offered uncoated with a 25 mm diameter and focal lengths of 50 mm, 75 mm, 100 mm and 150 mm. TECHSPEC λ/20 PCX Lenses are in-stock and available for immediate delivery for fast turnaround and excellent value.

Stop by Booth #1615 to see TECHSPEC λ/20 PCX Lenses on display during Photonics West, February 10-12, The Moscone Center, San Francisco, CA.