TECHSPEC Optical Cage System
Allows users to continuously modify system design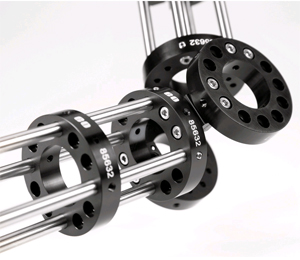 Edmund Optics® (EO), the premier provider of optical components, introduces their new TECHSPEC® Optical Cage System. Offering a high precision alternative to complex optical alignment systems, these versatile optical bench components are designed for modularity and flexibility.

Construct custom opto-mechanical component systems
TECHSPEC Optical Cage Systems consist of precision rods, plates and mounts, allowing the user to construct customized, adaptable opto-mechanical systems with limitless options for modification using off-the-shelf components. "Modification of a system's design is as simple as rearranging or adding additional components, such as optical mounts and angular brackets. Components are purchased individually, which is perfect for customizing and adapting your optical system and is ideal for prototyping," remarked Amr Khalil, Product Manager, Edmund Optics.

High Durability for Continuous Lab Use
TECHSPEC Optical Cage System components are highly durable and feature tighter tolerances, increased rigidity and more flexibility than other cage systems. They offer the best price-to-performance ratio on the market, guaranteeing smooth movement, precision alignment, and improved accuracy.

Maximum flexibility with Individual Components
The TECHSPEC Optical Cage System is designed for maximum flexibility - individual components include numerous plates, rods, mounts and tubes, which combine with adapters, brackets, spheres and other accessories. This ensures adaptability in angular mounting, translation, positioning, as well as the ability to support multiple beam paths. With the use of off-the-shelf components, the cage system eliminates the need to purchase costly custom mounting components, saving time and money. The individual components are designed for use with commercially available optics, lasers, light sources, detectors and cameras.

Ideal for demonstrations and troubleshooting
All of these unique features combine to make the TECHSPEC Optical Cage System ideal for prototyping optical systems, as well as for university research and experimentation. The modular, portable system is excellent for use in demonstrations - setups can be easily pre-constructed and transported minimizing the need for lengthy assembly and alignment at demonstration site. When left uncovered, the optical setup is easily viewed by students, customers and colleagues for demonstrations and troubleshooting. Complete information, including instructional videos and application examples, for the TECHSPEC Cage System can be found at www.edmundoptics.com/cage-system.

The TECHSPEC Cage System will be on display during CLEO (May 8 - 10 in San Jose, CA, USA) booth 1515 and Optatec (May 22 - 25 in Frankfurt, Germany) hall 3 - booth G26.