TECHSPEC® OD 6 Laser Line Clean-Up Filters
Filters achieve greater than 90% transmission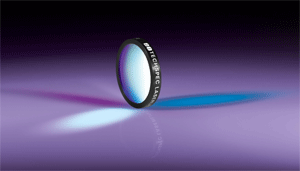 Edmund Optics® (EO), the premier provider of optical components, introduces new TECHSPEC® OD 6 Laser Line Clean-Up Filters. Designed for use with common gas and solid state lasers, these versatile filters provide the high transmission and deep rejection necessary to isolate narrow spectral regions in a wide variety of applications.

Hard coated design provides excellent durability
TECHSPEC OD 6 Laser-Line Bandpass Filters have the advantage of fabrication using "hard coated" plasma deposition technology, which ensures high performance and allows these filters to be exceptionally durable. TECHSPEC OD 6 Laser-Line Bandpass Filters achieve greater than 90% transmission at their specified design laser wavelength. They offer impressive blocking of greater than 6.0 optical density at just +1.5% of the laser wavelength.

Filters eliminate noisy spontaneous emission
With steep edges, TECHSPEC OD 6 Laser-Line Bandpass Filters are designed to offer maximum transmission of stimulated emission, while eliminating noisy spontaneous emission. TECHSPEC OD 6 Laser Line Clean-Up Filters are excellent for use in laser-based fluorescence instrumentation, Raman spectroscopy, as well as in analytical and medical laser systems.

The filters are available with center wavelengths of 325 nm, 355 nm, 488 nm, 514 nm, 532 nm, 632 nm, 785 nm, 808 nm, 830 nm, 980 nm, and 1064 nm with diameters of 12.5 mm and 25 mm. TECHSPEC OD 6 Laser Line Cleanup Filters are in-stock and available for immediate delivery for fast turnaround and excellent value.

Edmund Optics continues to invest in its offering of laser optics and currently offers over 1780 stock laser optics and accessories available for next day delivery. From Lenses and Mirrors to Filters and accessories EO's laser optics are ideally suited for a wide variety of applications including life sciences, materials processing and beam steering. Many of these components have been laser damage threshold tested to ensure compatibility with common industrial lasers. For a complete selection of EO's laser optics visit www.edmundoptics.com/laser-optics.