TECHSPEC® Infrared (IR) Achromatic Lens Wins Silver at Annual Eizo Joho Award
Japanese magazine publisher bestows product award to Edmund Optics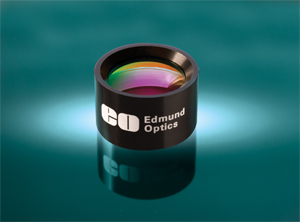 Edmund Optics, the premier provider of optical components, received the 2010 Eizo Joho Annual Silver Award for their innovative TECHSPEC® Infrared (IR) Achromatic Lenses.

Eizo Joho Industrial, a monthly imaging journal, recently announced their 10th annual 2010 Awards where the winners were selected from 146 machine vision related products. The selection criteria was that any product or technology nominated had to be new in 2010 and submitted to their "New Products" pages during the year. The winners were selected by subscribers who visited the website during a three month period to vote for their favorite product.

The Eizo Joho Awards event began in 2002 after a visit to the United States where the publisher's advisor took notice of a consumers-choice awards event based on tallying online votes. Duly impressed by this approach, the publication began its own recognition award event, which has proven very successful in Japan.
Edmund Optics' IR Achromats was the only product chosen from the Optics category and was one of six products bestowed the Silver Award. Mr. Masahiro Hanami, publisher of Eizo Joho, praised the achromat, stating, "This IR Achromat, from Edmund Optics, is the only product awarded at this time from the Optics category. It was recognized for improving image quality and focusing performance over the wide spectral range as compared to the conventional Germanium or other IR material singlets. In addition, it is in stock and available for immediate delivery at reasonable price, which must have appealed to our subscribers."

EO's TECHSPEC IR Achromatic Lenses are designed to provide impressive near diffraction-limited focusing performance over their full spectral range. They are color corrected for 3-5 µm (mid-wave IR) or 8-12 µm (long-wave IR) and are available in 30 mm diameter with focal lengths of 40 mm, 50 mm, 60 mm and 75 mm. They are ideal for use in applications in FTIR Spectroscopy, Thermal Imaging and with tunable QCL Lasers.

All Gold, Silver and Bronze winners were announced on the journal's webpage.