TECHSPEC® Imaging Filters Ideal for Machine Vision and Imaging Applications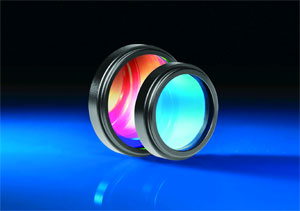 Optimized for use with popular LEDs
Barrington, N.J. - Edmund Optic® (EO), the premier provider of optical components, introduces its new TECHSPEC® Imaging Filters. These versatile filters are designed and manufactured to meet the most demanding machine vision and imaging applications to provide high quality filter performance and durability for a wide range of solutions. TECHSPEC Imaging Filters may also be used to improve image contrast and isolate spectral regions and colors.
High and Flat Transmission Profiles Provide Even Illumination
TECHSPEC Imaging Filters pass or block specific UV, visible or IR wavelengths and provide extremely wide angles of incidence. They exhibit exceptionally high and flat transmission profiles to provide even illumination. Optimized for use with popular LEDs, these RoHS-compliant filters feature an optical density of >3.0. When compared to traditional filters, hard-coated TECHSPEC Imaging Filters, manufactured using an ion-beam sputtering technique, provide superior blocking of unwanted light with excellent durability for longer lifetimes.
Multiple Mounting Sizes and Threads Available
TECHSPEC Imaging Filters are available in thirty models, offering multiple mounting sizes and threads to ease system compatibility. The filters are available with center wavelengths of 470 nm, 524 nm, 548 nm, 634 nm, 660 nm and 880 nm with transmissions up to 97% in light red, dark red, green, blue, UV/VIS Cut-Off and UV/IR Cut-Off models. All TECHSPEC Imaging Filter models are in-stock and available for immediate delivery for fast turnaround and excellent value.
About EO
Edmund Optics® (EO) is a leading producer of optics, imaging, and photonics technology for R&D, electronics, semiconductor, pharmaceutical, biomedical, and military markets around the globe. EO is the world's largest supplier of off-the-shelf optical components. Customers can purchase items by contacting EO at 1-800-363-1992, via the catalog, or via the website.
Company Contacts
Kirsten Bjork-Jones - Director Global Marketing Communications
Tel: 1-800-363-1992
Agnes Huebscher - Director European Marketing
Tel: +49 (0)721-62737-38
PR Contact
James Liolin - Media Relations/Content Marketing
Tel: 1-914-670-0138