TECHSPEC® C-Mount Achromatic Pairs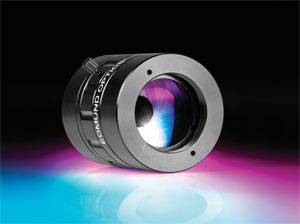 Edmund Optics® (EO), the premier provider of optical components, introduces new TECHSPEC® C-Mount Achromatic Pairs. These versatile relay lenses are designed for easy integration into a wide variety of OEM imaging applications.

User adjustment of NA and depth of focus
TECHSPEC C-Mount Achromatic Pairs use an integrated iris, which allows the user to adjust both the numerical aperture (NA) and the depth of focus for excellent control of light throughput. Each of the lenses in the pair has been oriented for maximum system performance. The robust aluminum housing surrounding each lens pair removes the risks associated with handling loose optics for increased durability and ease of use. C-Mount threading on each end ensures easy mounting and alignment for quick integration into any optical system.

High transmission and low reflection
Ideally suited for relay or projection applications, TECHSPEC C-Mount Achromatic Pairs feature a broadband visible coating to provide high transmission and low reflection over a wide spectral range. TECHSPEC C-Mount Achromatic Pairs are available in eight models, in 1:1, 1:2, and 1:3.33 magnifications, from 30 mm and 30 mm focal lengths to 100 mm and 100 mm focal lengths. The C-mount barrel is also available with no pre-mounted lenses for customized magnification pairs.

TECHSPEC C-Mount Achromatic Pairs are in-stock and available for immediate delivery for fast turnaround and excellent value.