TECHSPEC® Acylinder Lenses
Diffraction-limited focusing performance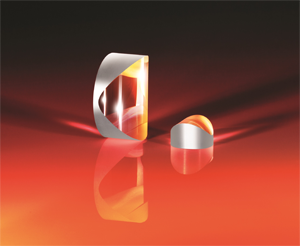 Barrington, N.J. - Edmund Optics® (EO), the premier provider of optical components, introduces its new TECHSPEC® Acylinder Lenses. These lenses are similar to aspheric lenses, as they also provide diffraction-limited focusing performance in only one dimension.

Provide sharp, thin lines
TECHSPEC Acylinder Lenses are designed to reduce spherical aberration along the focusing axis and are an excellent choice for creating thin line profiles. When compared with standard cylinder lenses, TECHSPEC Acylinder Lenses noticeably reduce the spot size of monochromatic light sources to provide sharp, thin lines in a variety of applications.

Eight models with focal lengths from 10-25 mm
TECHSPEC Acylinder Lenses are available in eight designs, with diameters of 12.5 mm and 25 mm and focal lengths of 10 mm, 12.5 mm, 20 mm and 25 mm. All lens models are available uncoated or with a MgF2 anti-reflection coating. TECHSPEC Acylinder Lenses are in-stock and available for immediate delivery for fast turnaround and excellent value.