TECHSPEC® 3.5mm Compact Fixed Focal Length Lens Designed for True Factory Automation
v>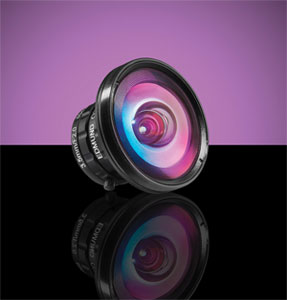 Edmund Optics® (EO), the premier provider of optical components, introduces its new TECHSPEC® 3.5mm Compact Fixed Focal Length Lenses. These machine vision lenses are ideal for use in factory automation, inspection or qualification. They have been optically designed to specifically meet the challenges of factory automation - keeping working distance and resolution requirements in mind.

High Resolution with a Wide Field of View
TECHSPEC 3.5 mm Compact Fixed Focal Length Lenses offer high resolution performance on up to 1/1.8" camera sensor formats. The C-Mount lenses feature an angular field of 102.3°, a 425-675 nm BBAR coating and an outer diameter of 50 mm.
Large Maximum Aperture
TECHSPEC Compact Fixed Focal Length Lenses feature large maximum apertures for use in even the most restrictive lighting conditions. These high performance lenses support up to 2/3" sensors and include a ruggedized housing for optimum durability. Each lens has a broadband anti-reflection (BBAR) coating for increased transmission by up to 12% over standard MgF2 coatings on competitive lenses. These RoHS-compliant lenses have low lens-to-lens variation, an industry-leading price-to-performance ratio and are available in ten different focal length models from 3.5 mm to 50 mm.
TECHSPEC Compact Fixed Focal Length Lens models are in-stock and available for immediate delivery for fast turnaround and excellent value.
Company Background
Edmund Optics® (EO) is a leading producer of optics, imaging, and photonics technology for R&D, electronics, semiconductor, pharmaceutical, biomedical, and military markets around the globe. EO is the world's largest supplier of off-the-shelf optical components.
Company Contact
Kirsten Bjork-Jones
Tel: 1-800-363-1992