TBD Enterprises LLC named as KMT Robotic Solutions exclusive sales group to Marine and Personal Watercraft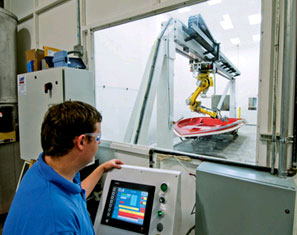 KMT Robotic Solutions Inc., has named TBD Enterprises LLC as their exclusive Sales Group to the Marine and Personal Watercraft industry.
While TBD Enterprises will still represent KMT to other general industry customers and select automotive customers they will be an exclusive sales agent for trimming solutions to this industry.

"With KMT's extensive knowledge and past success in trimming composite and plastic watercraft we are very pleased to be representing them in this industry", said Tom Washburn from TBD Enterprises. "With TBD's knowledge of the industry and KMT's products, combined with the high quality solutions that KMT designs and builds, we believe this will be a win-win for all involved, most importantly the customers", Tom went on to say.
KMT has multiple systems in the field trimming boats and personal watercraft including a WaterJet system at Ranger Boats in Flippin, Arkansas. Ranger Boats a world-renowned manufacturer of quality freshwater boats and saltwater fishing boats has been using their system for over 2 years.
Lance Newton, Manufacturing Engineer at Ranger Boats, said, "I am happy that TBD Enterprises will be representing KMT to our industry." He said that, "The KMT JetTool system has lowered costs, created a cleaner safer work environment, improved production and quality." "We also have the ability to make engineering or model changes quickly and efficiently" Lance went on to say.
"There will be substantial annual savings each year in perishable tooling," said Lance Newton. "As our process becomes leaner, it results in decreased manufacturing costs for Ranger, which can ultimately result in a more stable cost to our dealers and customers."
One example of KMT's JetTool efficiency is the cutting of Ranger's Z520 Comanche. Previously, it took four operators approximately 30 minutes to perform the same task the JetTool can do in 16 minutes.
According to Randy Hopper, president of Ranger Boats, the interior deck compartments were previously made using a variety of jigs, routers, saws and drills. "It was a difficult job that generated a lot of fiberglass dust," said Hopper. "With the new robotic water jet, everyone benefits. Employees get a cleaner work environment and the cost savings from improved efficiency help offset the rising cost of raw materials and the initial equipment investment."

According to Ranger, the JetTool saves the company approximately US $100,000 per year in perishable tooling costs and the initial investment will be returned in less than three years.
TBD Enterprises LLC is a Sales Representative Firm specializing in Robotics and Automation to the Manufacturing Industry. TBD's business model is to supply manufacturers with complete solutions with one phone call, from plant build to full production. For more information on TBD Enterprises LLC visit our website at www.tbdenterprisesllc.com.
Excerpts from Boating Business Magazine, to read the complete article go to http://www.boatingbusiness.ca/todaysnews/article/8494.