Taking Packaging to a Whole New Level
B&R at interpack 2014 in Dusseldorf

B&R continues to push packaging machine performance to its physical limits. With reACTION and NetTime technology, B&R has reduced response times in industrial automation applications down to 1 µs, allowing extremely time-critical subprocesses to be managed using standard hardware within IEC 61131 requirements.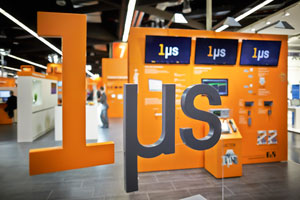 The newest B&R solutions for the packaging industry will be on display on May 8 - 14 at interpack 2014 in Dusseldorf (Hall A6 / Booth E62).

B&R's innovative automation technologies are opening up entirely new levels of machine and line performance – not to mention increased flexibility and availability. B&R products make it easy to seamlessly integrate a wide range of advanced automation technology into packaging machines, including web services, advanced motion control and robotics, safety, vision systems and IT connectivity. The performance of high-speed machine functions such as product labelling or the rejection of sub-par products has also gained an enormous boost – without added costs – through the use of B&R reACTION and NetTime technologies.

Ultimate flexibility
Packaging lines demand extreme levels of productivity and flexibility across the board – from the primary and secondary solutions straight through to the end-of-line equipment. This can be achieved through a modular design with control and drive components installed directly on the machine's frame – or even on rotating parts. B&R combines maximum performance, extreme flexibility and real openness with IP65-rated ACOPOSremote servo drives and ACOPOSmotor motor-integrated servo drives, as well as the X67 series of machine-mountable I/O and safe I/O modules.

B&R company profile
B&R is the world's largest and most successful private company in the area of automation equipment manufacturing. The motto "Perfection in Automation" has provided the foundation for the company since B&R was founded in 1979. Today, B&R employs 2,500 employees worldwide and has an exceptional global presence with 175 sales offices in 75 countries.

As a global leader in industrial automation, B&R combines state-of-the-art technology with advanced engineering to provide customers in virtually every industry with complete solutions for machine and process automation, motion control, HMI and integrated safety technology. With industrial fieldbus communication standards like POWERLINK and openSAFETY as well as the powerful Automation Studio software development environment, B&R is constantly redefining the future of automation engineering.

B&R Industrial Automation, Inc. North America, based in Atlanta, GA, has been working closely with its customers since 1987. Since then, B&R North America has continuously grown as a sales and support organization through both direct sales offices and B&R's unique Automation Partner distribution network. Today, B&R North America has a network of 25 offices throughout the USA and Canada and is there for its customers locally.

Contact:
Yvonne Eich
(770) 772-0400