SU640KTS Compact, Large Format SWIR-InGaAs Camera
New SU640KTS is a compact, large-format shortwave infrared (SWIR) camera that meets EU standards and features the CE mark.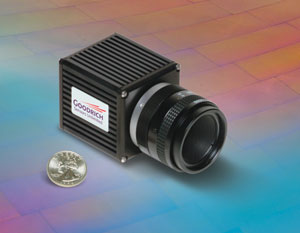 Sensors Unlimited – Goodrich ISR Systems announces the compact, large-format indium gallium arsenide (InGaAs) high-resolution shortwave infrared snapshot video camera, the SU640KTS. The new imager has met all Conformite Europeene (CE) and the U.S. Federal Communications Commission (FCC) standards for radiated and conducted emissions, for immunity from such emissions, and for electrostatic discharge (ESD) resistance. The CE mark ensures compatibility with the toughest country requirements for instruments delivered to European Union customers.
The SU640KTS operates in the SWIR (from 0.9 microns to 1.7 microns) at 30 frames per second. The solid-state, uncooled 640 x 512 pixel array camera with 25 µm pitch also features built-in non-uniformity corrections (NUCs), automatic gain control (AGC), and adjustable automatic contrast enhancement. It offers both EIA-170 analog video output and Camera Link® compatibility for 12-bit digital imaging. Extensive camera commands and controls are also available using the Camera Link interface or via a separate EIA232 interface, for added flexibility.
For solar applications, the high resolution, large-format camera is ideally suited for silicon block, silicon ingot, or wafer inspection. Other applications include integrated circuit microscopy, machine vision of moving objects, sorting, inspection, hyper- and multi-spectral imaging, pulsed or continuous wave (CW) laser-beam profiling, thermal imaging at >150 degrees C through glass windows, and full-field optical coherence tomography (OCT) at 1.04 µm, 1.31 µm, or 1.55 µm.
The new, low power (<2.5 W at 20 degrees C, 9-16 V) InGaAs camera comes with a C-mount lens adapter. Camera options include a C-mount 25 mm f/1.4 lens, Nikon 50 mm f/1.4 lens with an F-mount adapter, or a SWIR optimized 50 mm f/1.4 lens with the Goodrich 42 mm interface adapter. Also available is an imaging pack consisting of 2 meter Camera Link cable and the National Instruments PCIe-1427 frame grabber card.
For more information, please visit Sensors Unlimited-Goodrich ISR Systems' South Hall
booth #811 during SPIE's Photonics West exhibition at the Moscone Center, San Francisco, California, January 25 -27, 2011.

Sensors Unlimited-Goodrich ISR Systems, based in Princeton, NJ, has pioneered the design and production of NIR and SWIR cameras and systems utilizing advanced Indium Gallium Arsenide (InGaAs) imaging technology for industrial, commercial, military, agricultural, and scientific markets.

Goodrich Corporation, a Fortune 500 company, is a global supplier of systems and services to aerospace, defense and homeland security markets. With one of the most strategically diversified portfolios of products in the industry, Goodrich serves a global customer base with significant worldwide manufacturing and service facilities.