Students Enter a High-Octane World of Robotics with Plastic Bearings and Cable Carriers
Company donates plastic machinery components to robotics competition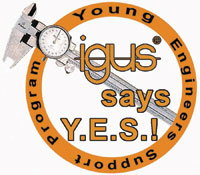 EAST PROVIDENCE, R.I. – September 10, 2009 – The 17th annual BEST (Boosting Engineering, Science and Technology) Robotics Competition kicks off this month at BEST hub locations nationwide. This year's competition marks the fifth consecutive year for igus® Inc. as a nationwide product sponsor for the event. This year's game, called "High Octane", was unveiled a few months ago as a teaser for more than 800 competing teams.

BEST Inc., a non-profit, volunteer organization, aims to inspire middle and high school students to pursue careers in engineering, science and technology through participation in science- and engineering-based robotics competitions. igus aspires to achieve a similar goal through its Y.E.S. (Young Engineers Support) Program by donating products to engineering curriculums and competitions such as BEST Robotics.

In the 2009 competition, BEST teams will have the opportunity to use igus' Energy Chain® cable carriers, DryLin® linear slides, igubal® spherical bearings, and aluminum shafting.

BEST teams have a total of six weeks to design and build their robots and will unveil their finished products at local events across the U.S. starting in October. To learn more about BEST, visit www.bestinc.org. To learn more about the Y.E.S. Program, go to www.igus.com/yesprogram.
About igus
igus develops industry-leading Energy Chain cable carriers, Chainflex® continuous-flex cables, iglide® plastic plain bearings, igubal spherical bearings, DryLin linear bearings and guide systems. These seemingly unrelated products are linked together through a belief in making functionally advanced, yet affordable plastic components and assemblies. With plastic bearing experience since 1964, cable carrier experience since 1971 and continuous-flex cable since 1989, igus provides the right solution based on 70,000 products available from stock. No minimum order required. For more information, contact igus at (800) 521-2747 or visit www.igus.com.
igus, Energy Chain, DryLin, igubal, Chainflex and iglide are registered trademarks of igus Inc. All other company names and products are trademarks or registered trademarks of their respective companies.

For press inquiries:
Courtney Toomey
Marketing Specialist

Nikki Groom
Marketing Specialist

For general inquiries (for publication):
igus Inc.
PO Box 14349
East Providence, RI 02914
Toll free: 1-800-521-2747
Tel: (401) 438-2200
Fax: (401) 438-7270
Web: www.igus.com