Stroke Module KLM 300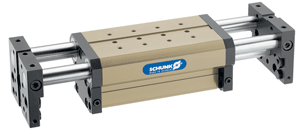 For loading machine tools, power and precision are both required. For this type of application, SCHUNK enlarged its modular system with the stroke module KLM 300. Double-seated and robust dimensioned guiding shafts assure that the module can handle high payloads and achieves an excellent repeat accuracy of less than 0.015 mm.
Two possible intermediate positions assure a higher flexibility to the user. In order to achieve a more compact design with minimum interfering contours, the shock absorbers and the proximity switches are already integrated into the projected area, and assure a vibration-free motion and reliable monitoring of the end positions. In case of emergency stops, a clamping cartridge avoids an uncontrolled movement.
As a part of the modular system for automation, the module allows more than 250 standard combinations, even with sealed grippers. The module is particularly suitable for workpiece handling of up to 15 kg and can be also integrated as a Z-axis into linear gantries.