StreamPix 6 High Speed Digital Video Recording Software
rong>NorPix is excited to introduce StreamPix 6, the latest version of its high speed digital video recording software for 32- and 64-bit Windows 8 and 7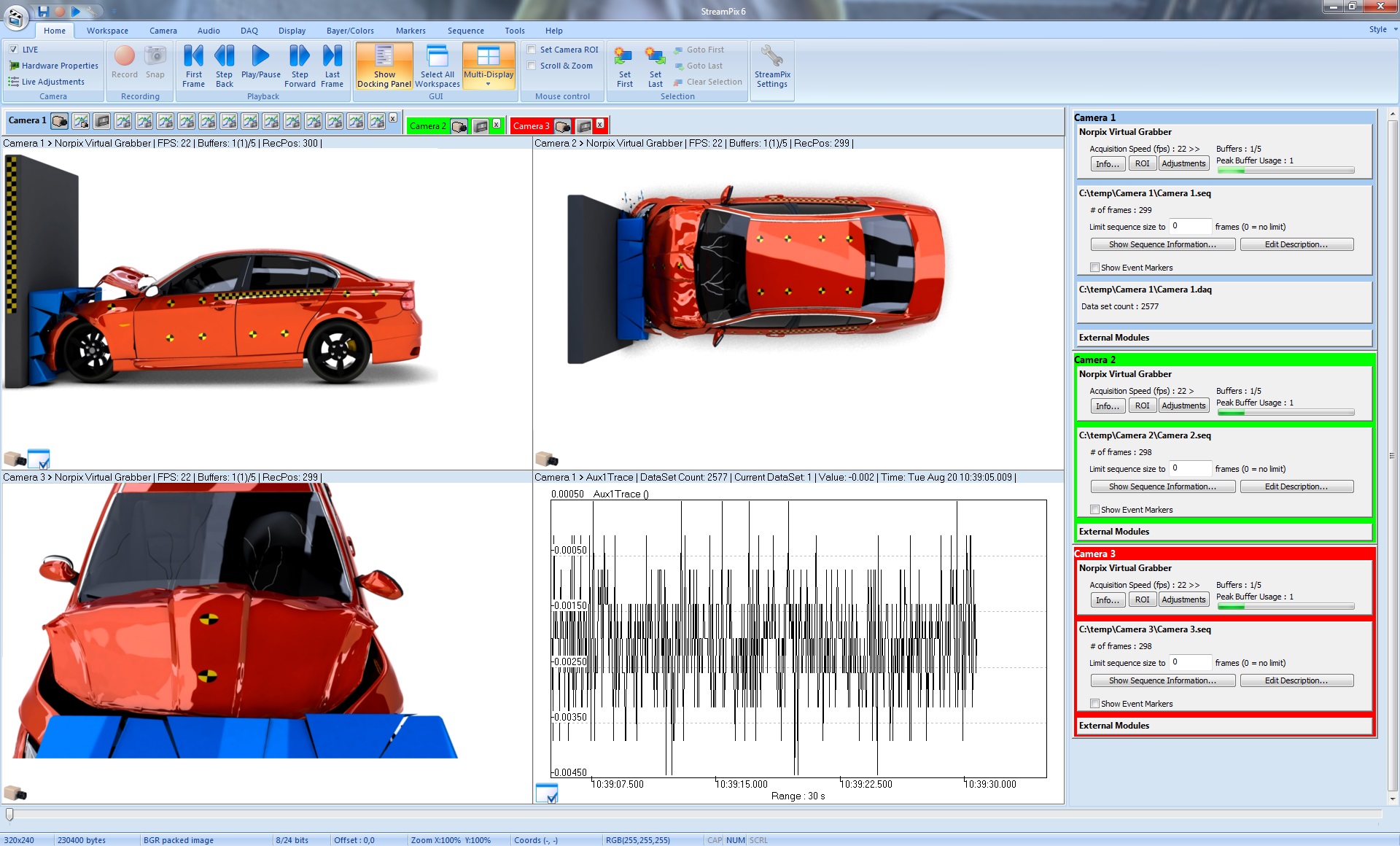 The new version includes a number of new features including:


Multi-line DAQ recording. Record synchronized analog data along with single or multiple video streams.
Support for various high speed analog to digital converter hardware devices (PCIe, USB...).
Audio and DAQ data are automatically synchronized with the video.
Improved writing data to SSDs and large capacity external USB3 hard disks.
A totally revamped User Guide.
New Cuda module: Real time JPEG compression using Nvidia GPU for raw Bayer, color and monochrome images. Up to 1.5 billion pixels per second real time JPEG compression.
A series of HOWTO guides to help the user through major tasks.
Camera management is also enhanced, with improvements to the lens control parameters such as iris, focus and zoom for some GigE Vision compatible cameras.
Major improvements include numerous new camera drivers and API updates, and the ability to bundle metadata with images.
New multi camera module for using more than 8 cameras per computer.
These new improvements take advantage of advanced features only available in modern Windows 7 and 8 operating systems. Support for Windows XP is therefore dropped with version 6.
For more information on how to upgrade, contact sales@norpix.com.

StreamPix has a state-of-the-art user interface that lets users acquire, view and control from single or multiple cameras simultaneously. StreamPix supports a wide variety of high resolution and high frame rate cameras and frame grabbers, and comes with a wide selection of features such as GPS tagging, IrigB, color processing, CUDA compression, audio recording, DAQ acquisition and synchronization.

About NorPix

NorPix is a leading developer of high-speed digital video recording software and solutions for single and multiple camera acquisition. NorPix technology is used in a wide range of applications including motion analysis and tracking, medical imaging and research, life science, industrial troubleshooting, geo-mapping and military.

Media Contact:
Luc Nocente
Tel: 1(514) 824-2517