Steve Barhorst Appointed President and COO of Motoman Inc.
Dayton, Ohio – Effective July 8, 2008, Steve Barhorst was named the new President and Chief Operating Officer of Motoman Inc., one of the largest robotic solution providers in North and South America.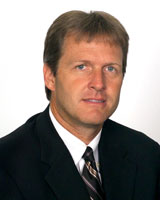 Barhorst succeeds Craig Jennings, whose departure after nearly 19 years comes at a time in which Motoman is shifting to a global strategy designed for aggressive growth. "Motoman is now ready and postured for significant growth because of Craig's leadership and focus on operational efficiency. Thanks to Craig, Motoman is in an excellent position to aggressively pursue our next challenge -- growth," said Gen Kudo, Chairman and CEO, Yaskawa Electric America and Motoman Inc. Motoman's parent, Yaskawa Electric Corporation, is the world's leading robot manufacturer with an installed base of nearly 200,000 robots around the globe.
"Craig spent many years building a seasoned and competent executive team that is expected to produce significant future growth and results. Fortunately for us, the transition of leadership will be seamless due to the presence of Craig's successor, Steve Barhorst, previously Motoman's Senior Vice-President and Chief Financial Officer," Kudo continued.
Barhorst joined Motoman as Vice-President and CFO in August 2000 and became Senior Vice-President and CFO in March 2004. In 2005, Barhorst assumed additional responsibility for leading Motoman's Standards & Logistics Group, which represents approximately 50 percent of the company's business. "Naming Barhorst President of Motoman Robotica do Brasil in 2007 was a concerted effort to develop and round out Steve's leadership and business operational skills by adding international experience," said Mike Gabbard, Vice-President, Human Resources Group. "Motoman's future success depends on leadership's ability to adapt, grow and succeed in a global market. Under Steve's guidance, our Brazilian entity has flourished, making him an excellent long-term choice to lead us into the future," Gabbard continued.
Barhorst's extensive management and finance background includes positions as Vice-President and CFO for Dolly, Inc.; Controller and Assistant Treasurer for Fidelity Health Care, Inc.; and Audit Manager for Ernst & Young. He has a Bachelor of Science degree in Accounting from Miami University of Ohio (1985).
Jennings' 11 years as President and Chief Operating Officer of Motoman Inc. were preceded by seven years of executive leadership positions within sales and marketing at the company. Over the years, Jennings accumulated numerous awards for his leadership in the robotics industry. He was also recognized for his contributions to Dayton and surrounding communities. Jennings' most significant accomplishment came in 2005 in Tokyo, Japan, when Joseph Engelberger, the world-renowned "father of robotics," presented Jennings with the Engelberger Award for Leadership, the industry's highest honor.
CONTACT:
Sally Fairchild
937.847.3202