Stäubli Welcomes Gilles Le Quilleuc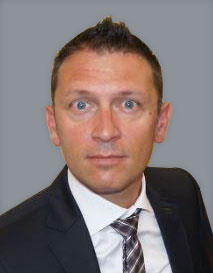 Duncan, SC – Staubli Robotics would like to welcome Gilles Le Quilleuc as National Sales Manager, North America. Le Quilleuc joined Stäubli in 1997, a student of mechanical and industrial automation as well as robotics; Le Quilleuc began his Stäubli tenure as a service technician, performing maintenance and technical support onsite and via hotline. Since that time, he has served in a number of capacities including sales technical support, export sales support, business development and Robotics Division Manager for Italy, amassing more than 20 years of robotics experience.
Le Quilleuc's extensive knowledge of every aspect of the business – from the service side to division management, setting up sales teams and establishing business units in a number of countries – positions him perfectly for his new role as the National Sales Manager in North America. Immediately prior to this new role, Le Quilleuc focused on new customer development, market analysis and segmentation and developing strategic direction to position Stäubli's Robotics division in Italy for optimal growth.
About Stäubli North America
Stäubli North America has over 200 employees supporting Textiles, Connectors and Robotics customers. The company's North American headquarters is located in Duncan, S.C., and the sales force is strategically placed on the West Coast, Canada, Mexico and elsewhere thoughtout the continent.
Stäubli is a leading manufacturer of textile machinery, quick release couplings and robotics systems. With a workforce of over 4,500 employees Stäubli is present in 25 countries supported by a comprehensive distribution network in 50 countries worldwide.
Visit www.staubli.us for more information on the company and products.