Stäubli to Showcase New Industry 4.0 Solutions at Automate 2019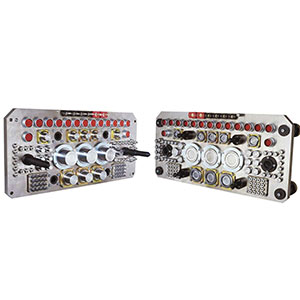 Solutions of a smart production line will include Staubli's Multi Coupling System (MCS), Robot Multi-tool Changer along with Staubli's Robotics Production Solutions, including the new TS2!
DUNCAN, S.C. – Stäubli, a leading manufacturer of textile machinery, quick release couplings and robotics systems, will bring the factory of the future to life at Automate 2019, scheduled to be held at McCormick Place in Chicago, April 8-11.
Staubli's promise: No matter the connection, we have the solution.
Designed for any industry, Stäubli's Multi Coupling System (MCS) is custom made to exacting specifications and built using the highest-quality components from its wide range of industry-leading fluid couplings and electrical connectors.
Stäubli specialists take a personalized approach to understand each customer's unique needs to determine the best modular couplings and electrical connectors; guiding components; and locking systems required, then expertly fashion them into one assembly.
The Staubli MCS is a common sight in the plastics industry, for increasing efficiency and speed in mold changes. Additionally, we are becoming a standard for use in the automotive and aerospace industries where automation and flexible design are needed for parts manufacturing and testing equipment.
The next wave of opportunity lies in the manufacturing solutions of tomorrow, those that have not yet been conceived and built. With customer demands for product variety increasing, the manufacturing industry is turning to more customizable automated solutions to offer more diverse, competitive product lines. New specialized, custom-built machines are being designed every day, and Stäubli's MCS solution will play an integral role in the Factory of the Future.
Staubli's competitive advantage: Breadth of experience and superior longevity.
As one of the leading manufacturers of quick connectors for fluids, gases, hydraulic and electrical power, Stäubli has become a recognized expert across the manufacturing sector for its ability to offer a wide variety of solutions that that deliver high performance and long-term reliability to meet the exacting needs and specific requirements our customer's demand.
The same care, craftmanship and commitment to quality that have established Stäubli connectors as an industry leader shines through in their MCS solution. Stäubli engineering experts bring a deep base of knowledge to the design of the overall coupling to carefully hone dimensional and tolerancing details that ensure maximum performance and durability.
Stäubli's MCS solutions are engineered to exact customer specifications, designed to last and are tested for high longevity and long wear with some solutions rated up to a million connection cycles.
Customer benefits: Safe, efficient solutions that eliminate mistakes.
Combining multiple connection points into one convenient and durable assembly offers myriad benefits including productivity gains in optimized space, as well as operator and installation safety, since the risk of inverting circuits is completely eliminated. With the MCS, there is only the possibility for connection in one position: the correct position. A variety of locking mechanisms are available depending on need, and optimal seals are matched to the fluid and to the application to further add to the safety of the system.
The ultimate payback is the reduced downtime spent on constantly switching out a variety of single connectors. With Stäubli's MCS solution, manufacturers and engineers can rely on a quick, safe and simultaneous connection of all services including pneumatics, liquids, gases, hydraulics and electrics.
As manufacturers continue to explore new automated solutions, Stäubli's infinitely customizable MCS solution will present them freedom to innovate. No matter the connection, Stäubli has the solution.
Visual Recommendations
Visual that labels each of the connections in a complex MCS solution to demonstrate the breadth of its capabilities
Coaxial
Hydraulic
Pneumatic
Gas
Low- and high-pressure hydraulic
Electrical
Automate 2019 will mark the North American premiere of Stäubli Robotics' new TS2 SCARA robots. These completely redesigned four-axis machines offer incredible flexibility for the production line and feature a fully encapsulated design, compact footprint and ultra-short cycle times with a high degree of repeatability. The robots also can be modified for sensitive environments to deliver hygienic and safe solutions for the food, medical and pharmaceutical markets.
Also making its North American debut at Automate will be Stäubli's HelMo mobile robot system, which is capable of navigating with complete autonomy by continuously monitoring its environment with three integrated laser scanners. This Automated Guided Vehicle (AGV) features a Stäubli six-axis TX2-90L collaborative robot, which allows HelMo to work alongside employees at any stage of the process. Stäubli Electrical Connectors, one of the world's leading manufacturers of electrical connectors for all industrial sectors, has been effectively utilizing HelMo in its own factory production to handle spikes in demand and to offset unforeseen absences among its human workforce.

At Automate, Stäubli Electrical Connectors will present new connectors for welding applications as an innovative solution for robot cabling. RobiFix-MINI, which supports welding technologies up to 10 kHz, is compact and lightweight, making it ideal for intricate applications. The modular CombiTac system permits maximum flexibility in the creation of application-specific interfaces. Stäubli also will demonstrate the many uses for its Multi Coupling System (MCS), which offers manufacturers a quick, safe and simultaneous connection of all services including pneumatic, liquid, gases, hydraulic and electric.
Visit Stäubli at Automate (booth #7150) to learn more about their smart production line, or visit www.staubli.us for more information.
About Stäubli North America
Stäubli North America has over 200 employees supporting Connectors, Robotics and Textiles customers. The company's North American headquarters is located in Duncan, S.C., and the sales force is strategically placed on the West Coast, Canada, Mexico and elsewhere thoughtout the continent.