Stäubli to Feature Humid Environment Range of Robots for Cheese Production During 2020 CheeseExpo
Company representatives will showcase benefits of humid environment robots during on-stage presentation and in booth 1708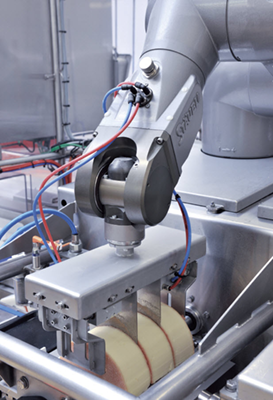 DUNCAN, S.C. — Visitors to the 2020 CheeseExpo will have several opportunities to learn about Stäubli's industry-leading robots designed to excel in cleanliness, safety and efficiency in the critical food-processing environment of the dairy industry.
The CheeseExpo will be held April 14-16 in Milwaukee. More than 4,000 cheese industry leaders, suppliers, marketers and others are expected to attend the event, where they will share information about the latest innovations in cheese processing.
Attendees at the biennial event will have two opportunities to learn about Stäubli's advanced range of Humid Environment (HE) robotic solutions. In booth No. 1708, representatives of the Swiss manufacturer will offer ultrasonic-cutting demonstrations utilizing the six-axis TX2 60 HE. The demonstration will include both cheese cutting and packaging, and will also showcase the full wash-down compatibility characteristic to the HE range.
In addition, Stäubli representatives will take to the presentation stage to further discuss the benefits of the HE range of robots, which are designed to meet the strict hygienic requirements necessary for the safe handling of food, while also providing optimal speed, efficiency and safety. The presentation will be from 2:30-2:50 p.m., April 16, on Stage B.
"It's always an honor for us to be on the show floor for CheeseExpo," said Roger Varin, CEO of Stäubli North America Inc. "With so many industry thought leaders in attendance, this show provides an excellent opportunity for us to demonstrate why Stäubli's automation solutions featuring the HE range of robots are an ideal fit for industries with such rigorous standards as dairy and cheese. Our robots are designed from the ground up to provide the highest levels of cleanliness and hygienic performance, while never sacrificing efficiency or the ability to work safely alongside their human partners where needed."
Robots in the HE Range offer a hygienic design featuring:
A fully enclosed and pressurized structure to prevent microorganism penetration and avoid condensation.
Smooth, rounded and tilted surfaces to eliminate liquid retention.
Full compatibility with NSF H1 food-grade lubricant without loss of performance.
Protection against low-pressure jets of water (IP65) and immersion (IP67)
A design built specifically for use in wet environments and full wash-down applications.
Stainless steel crucial components with specific coating to ensure durability in extreme conditions.
No external cables — all connections go through the base.
Unique, cylindrical envelope and small footprint.
Patented Stäubli proprietary JCS gearbox for top-of-the-line accuracy and repeatability.
For more information on the robotic applications in the dairy industry, please go to: https://www.staubli.com/en-us/robotics/solution-application/food-robots/dairy-products/
About Stäubli North America
Stäubli North America has more than 200 employees supporting Connectors, Robotics and Textiles customers. The company's North American headquarters is in Duncan, South Carolina.
Stäubli provides customer support through its locations in Duncan, Queretaro, Mexico, and the newest Stäubli North American facility, which opened in 2018 in Novi, Michigan. In addition to 24/7 customer support, each of these facilities offers trainings and has dedicated on-site technical experts who can be deployed whenever needed.
Stäubli's North American sales force is located strategically on the West and East coasts, and also serves Canada and Puerto Rico.
Worldwide, Stäubli is a leading manufacturer of quick release couplings, robotics systems and textile machinery. With a workforce of over 5,500 employees, Stäubli is present in 29 countries supported by a comprehensive distribution network in 50 countries worldwide.
About CheeseExpo
Hosted by the Center for Dairy Research and the Wisconsin Cheese Makers Association, CheeseExpo offers the most-extensive collection of cutting-edge cheesemaking equipment, business insights and networking opportunities in the vibrant cheese industry. CheeseExpo offers a targeted focus on cheese and whey products and draws CEOs, marketers, plant managers and R&D staff from around the United States.