Stäubli's New Collaborative Robots Headline Cutting-edge Products at Automate 2017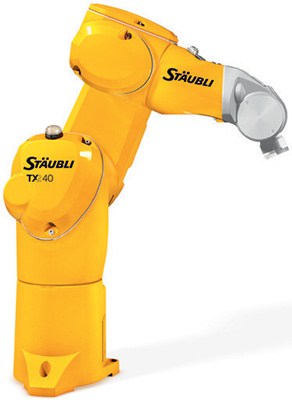 Innovative, efficient and safe solutions for robotics, electrical and fluid connectors will be on display
DUNCAN, S.C. – Stäubli will showcase a variety of industry-defining products, including its new TX2 line of collaborative robots, at the Automate trade show in Chicago this April. Stäubli is an innovative mechatronics solutions provider focused on connectors (both fluid and electrical), robotics and textiles. The company is celebrating its 125th anniversary this year.
Automate 2017 will be held at McCormick Place in Chicago, April 3-6. The event showcases the latest in robotics, vision, motion control and related technologies.
At Automate (booth #1240), Stäubli will unveil the full capacity of its new TX2 series of collaborative robots to the North American market. The company also will debut its new MPS tool changers, which enhance the productivity of automated production lines, and the innovative solutions and proprietary technology that make it the global leader for fluid and electrical connectors.
"Across all divisions, Stäubli maintains a focus on delivering innovative solutions that improve efficiency and safety for our customers across the globe," says Roger Varin, CEO, Stäubli North America. "With pioneering new safety features, the TX2 line offers the world's fastest safe robots. They deliver the same clean, consistent performance that has become synonymous with the Stäubli brand worldwide."
The new six-axis machines excel in every facet of automation, including high-volume manufacturing, Industry 4.0 applications and man-robot collaboration under all production conditions, illustrating the ability to produce a batch of one. At Automate, Stäubli Robotics will simulate a highly realistic Smart Factory in which different TX2 models in multiple interlinked cells will prove their Industry 4.0 compatibility, as well as their collaborative skills.
The new TX2 line is offered in six model series – TX2-40, TX2-60, TX2-60L, TX2-90, TX2-90L and TX2– 90XL and is capable of handling loads between two and up to 15 kilos with a reach between 515 and 1,450 millimeters. With the launch of the TX2 series and CS9 safety control, Stäubli has opened a new chapter in man-robot collaboration. The six-axis robots have a separate safe digital encoder for each axis and an integrated safety board. All safety features comply with the stringent requirements of the highest safety category, SIL3/PLe.
To ensure maximum safety, every movement of the robot is monitored by sensors. In addition, all the coordinates of the robot as well as its speed and acceleration are recorded in real time. For the TX2 series, Stäubli has opted for configurable, safe I/O modules as well as real-time Ethernet field bus systems that guarantee maximum safety and compatibility.
Stäubli North America's Robotics Division Manager Sebastien Schmitt says the company opted to use standard models for man-robot collaboration and has dispensed with the construction of typical assistant robots, which limit performance.
"Such robots are generally subject to excessive restrictions on load and dynamics, which is why we have adapted our standard robots to work with people without compromising on performance," says Schmitt. "With the TX2 six-axis robots, we can facilitate different levels of MRC. At the same time, the outstanding performance of these machines in terms of precision, reliability and speed means that they remain the first choice for all conceivable industrial applications that are subject to the most exacting cycle time criteria, which constitute the majority of applications in industrial practice."
On the mechanical side, Stäubli has incorporated proven technology for sensitive environments. Like their predecessors, the new six-axis models have an enclosed structure certified to protection class IP65 and IP67, which means they are waterproof. The TX2 series is thus ideal for use where stringent cleanroom and hygiene conditions are in force and for applications in harsh environments. Stäubli's understanding of this is demonstrated by a six-axis machine equipped to Humid Environment (HE) standard, which makes them ideal for use wherever high humidity, water spray or liquid coolants are prevalent.
"The TX2 series represents a new dimension in terms of quality, precision, speed, dynamics and safety," says Schmitt. "In addition, the robots are Industry 4.0 compatible, and in terms of control technology, they can be optimally adapted to all kinds of user environments. With their superior overall performance, these six-axis machines will protect, people, production and investments in all types of conventional or collaborative applications."
At Automate 2017, Stäubli Fluid Connectors will celebrate the world premiere of two compact, fully automatic tool change systems, the MPS 130 and the MPS 260. These two change systems are designed for the medium-payload segment, rounding out the tool changer line. With the automatic tool changer, the application of robotic automation can be significantly expanded and their efficiency and productivity increased. Although they are ideal for applications in the automotive industry, the advantages of the automatic gripper and the prospect of increased efficiency will be attractive to other markets as well.
Stäubli Fluid Connectors has paid particular attention to a weight-optimized design of the new tool changer so users don't have to invest in robots of the next-highest payload category. The weight of the MPS 130 is only 1.8 kg on the robot side and just 1.1 kg on the tool side. With the larger MPS 260, the weight is 3.8 kg and 2.2 kg, respectively. Although the changer is light, it is not short on strength and resilience. The MPS 260 impresses with a maximum load of 350 kg and a bending moment of 2,000 Nm. The smaller MPS 130 has a maximum load of 100 kg and a bending moment of 900 Nm.
As with the larger models, the two new additions meet the strictest safety requirements according to safety category 3, performance level d. The tool changers can be equipped with customized modules and components for media, data and electrical power transmission. To guarantee maximum reliability, Stäubli is the only manufacturer worldwide to develop and produce the complete changer singlehandedly. The locking mechanism, the media module and the entire connection technology comes from a single source. The advantage is that all components are produced under an integrated quality management system in the highest production quality.
Stäubli Electrical Connectors will be showcasing the CombiTac product line – a modular connector solution. Capable of covering a wide range of different applications from manufacturing equipment and testing fixtures to product subcomponents, the CombiTac connector is an excellent choice for projects that require consistent, reliable connections. The modular components can be selected and incorporated together to build a standardized connector that meets each specific project's exact needs and demands, available in both panel mount and housed configurations.
From elevated current and voltage loads to delicate signal transmission, the electrical contacts can withstand significant shock and vibrational disruptions while maintaining strong contact force, as well as achieving mating cycle capabilities in the hundreds of thousands, thanks to Stäubli Electrical Connectors' proprietary MULTILAM contact band technology. Accessories can be included to further protect small contacts from impact and damage. Floating mounting points ensure proper alignment, while the high-power contacts are touch protected to assure user safety.
Pneumatic and fluid couplers can be integrated along with the electrical connectors for a robust, compact solution, incorporating proprietary leak-proof shut-off valves to ensure safe performance.
Learn more about Stäubli's latest innovative solutions by visiting booth #1240. To register for Automate 2017, please visit: https://www.automateshow.com/
About Stäubli North America
Staubli North American headquarters is located in Duncan, SC and has over 200 employees supporting Textiles, Connectors and Robotics customers. The sales force is strategically placed on the West Coast, Canada, Mexico and elsewhere thoughtout the continent.
Stäubli is a leading manufacturer of textile machinery, quick release couplings and robotics systems. With a workforce of over 4500 employees Stäubli is present in 25 countries supported by a comprehensive distribution network in 50 countries worldwide.
Company Contact
Jan Abel, Senior Marketing-Communications Manager
Tel: 864-486-5430