Stäubli Robotics, Partners bring solutions for Pharma, Biotech industries to INTERPHEX
Stäubli's sensitive environment robots are designed to meet stringent safety standards, pharmaceutical industry best-manufacturing practices
DUNCAN, S.C. – Stäubli (booth #3717) will showcase its Stericlean robots designed specifically for the pharmaceutical industry at INTERPHEX, the International Pharmaceutical Expo, April 2-4 at the Javits Center in New York City.
Joining Stäubli at INTERPHEX will be several of its key partners, which will display innovative robotic solutions in their booths. In booth #3853, AST will unveil its new GENiSYS R product, a multiformat robotics filling system in which two Stäubli TX2-40 Stericlean robots are core to the flexible processing of vials, syringes or cartridges within the system. This new, innovative robotic platform is designed to meet the unique challenges associated with small-batch sterile filling applications such as cell, gene and regenerative medicines.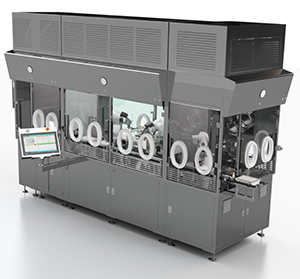 In the STERILINE booth, #1225, our partner will demonstrate a robotic aseptic filling machine for vials (RVFM) that is designed and manufactured to integrate perfectly with all superior containment systems: oRABS; cRABS; and isolator. This machine incorporates Stäubli's new TX2 Stericlean robots; three two-vaporized H2O2-resistant anthropomorphic robotic arms to realize movements in both filling and stoppering sections. All STERILINE filling machines are in compliance with cGMP, GAMP and 21CFR Part11 requirements.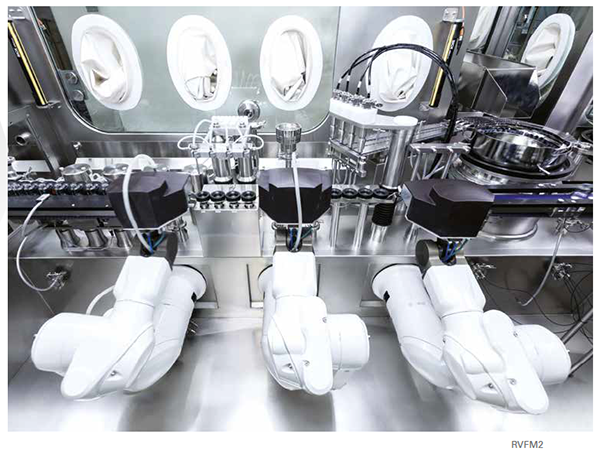 In booth #2505B, Bausch+Stroebel Machine Co. will display its SKAN, the VarioSys with robotic L-flange. This is an L-flange option recently developed by B+S that fits inside the SKAN PSI-L Isolator. In SKAN booth #3140, there will be a display featuring a more-traditional "manual" filling line system on an L-flange also from B+S; in addition, SKAN will display a system designated the L1 from another partner company, Aseptic Technologies. From handling of medical devices to filling of IV bags, syringes and vials in an aseptic environment, Stäubli's robots and in particular the Stericlean range are trusted with delicate tasks throughout the pharmaceutical industry.
At INTERPHEX, Stäubli will showcase innovative robotic applications including an automated filling process using our TX2 60L Stericlean aseptic compatible and collaborative arm in a demo RABS supplied by SKAN. Additionally illustrated, medical device assembly and quality control application realized with our TX60L.
INTERPHEX brings together the latest innovations and technologies in the pharmaceutical and biotechnology industries; visit booth #3717 to see how Stäubli's robots can present new possibilities for automation in the health care and life science sectors, or visit www.staubli.us for more information.
About Stäubli North America
Stäubli North America has over 200 employees supporting connectors, robotics and textiles customers. The company's North American headquarters is located in Duncan, S.C., while the sales force is strategically located on the West Coast, in Canada and Mexico, and elsewhere thoughtout North America.
Stäubli is a leading manufacturer of textile machinery, quick release couplings and robotics systems. With a workforce of over 5,000 employees, Stäubli is present in 29 countries supported by a comprehensive distribution network in 50 countries worldwide. Visit www.staubli.us for more information on the company and products.