Stäubli Presents New TS2 60 Stericlean SCARA Robot at Interphex 2020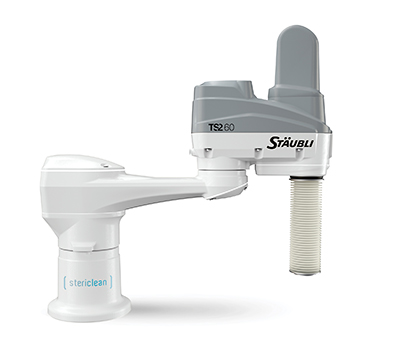 The new 4-axis robot is designed to meet and exceed cleanroom standards and aseptic production environments
Duncan, South Carolina — Manufacturing business leaders attending Interphex 2020 can visit booth 2159 to learn more about Stäubli's automated solutions and robotics for drug development and manufacturing. Stäubli will present its range of Stericlean ultra-hygienic robots designed for the pharmaceutical industry to meet its stringent cleanroom standards, including hydrogen peroxide decontamination.

In its 41st year, Interphex is a premiere showcase for a wide range of state-of-the-art solutions for pharmaceutical and biotechnology manufacturing, as well as device development and manufacturing. This year's event is slated for April 28-30 in New York City.
Stäubli's expertise in cleanroom robotic applications spans more than a decade. The Swiss company, which developed the first fully encapsulated robot design, uses its unique knowledge to offer a specific solution line for aseptic processes. Stericlean robots are compatible with vaporized and liquid H2O2 cleaning procedures and designed to perform in an ISO class 4 cleanroom environment.
In addition, Stäubli's technology inside both the TX2 and TS2 Stericlean SCARA robots allows the use of a NSF H1 food-grade oil proprietary to the company to safely lubricate each axis without comprising performance. Theses axes are put in motion by Stäubli's proprietary JCS drive technology on all models, which facilitates high-speed motion and high repeatability for ultra-short cycle times. The special seals and surface treatment, combined with the ability to pass all connections through the base and inside the arm, enable for shorter decontamination cycles in controlled/aseptic environment and laboratory integration of all the 4- and 6-axis Stericlean models.
"As a global leader in robots designed to excel in virtually every manufacturing environment, it's vital to us at Stäubli to offer solutions for manufacturers whose environments set the standard for aseptic protocols," said Sebastien Schmitt, North America Robotics Division Manager. "The TX2 6-axis and now our new TS2 SCARA range of robots do that and more — they have a unique, cylindrical envelope and small footprint that allow for easy integration into existing processes, offer flexible mounting options, and have the proprietary JCS drive technology that puts Stäubli's solutions at the top of every class. Our Stericlean robots go even further by meeting hydrogen peroxide decontamination standards critical to the industries represented at Interphex."
In booth No. 2159, Stäubli representatives will demonstrate two robotic cells, one focusing on lab automation, and the other on drug-manufacturing processes. In addition, Stäubli representatives will also have the newly designed TS2-60 Stericlean in the booth.
Key features of the Stericlean robot range:
Compatibility with vaporized and liquid H2O2 decontamination processes (to the amount of 35% of H2O2)
Fully enclosed structure with connections through the base
Cleanroom design with special seals and surface treatments
Proprietary JCS gearboxes
IP67 certified wrist
Utilizes food-grade NSF H1 oil without performance loss
Digital encoders for higher availability and performance

About Stäubli North America
Stäubli North America has more than 200 employees supporting Connectors, Robotics and Textiles customers. The company's North American headquarters is in Duncan, South Carolina.
Stäubli provides customer support through its locations in Duncan, Queretaro, Mexico, and the newest Stäubli North American facility, which opened in 2018 in Novi, Michigan. In addition to 24/7 customer support, each of these facilities offers trainings and has dedicated on-site technical experts who can be deployed whenever needed.
Stäubli's North American sales force is located strategically on the West and East coasts, and also serves Canada and Puerto Rico.
Worldwide, Stäubli is a leading manufacturer of quick release couplings, robotics systems and textile machinery. With a workforce of over 5,500 employees, Stäubli is present in 29 countries supported by a comprehensive distribution network in 50 countries worldwide.
About Interphex 2020
Based in New York, Interphex is the premier pharmaceutical, biotechnology and device development and manufacturing event. Each year, Interphex brings together more than 10,000 global industry professionals and more than 625 leading suppliers to "Learn It, Experience It, Procure It." This year's event will be from April 28-30 at New York City's Javits Center.