Stäubli Brings Revolutionary Industry 4.0 Workflow for Injection Molding to NPE Show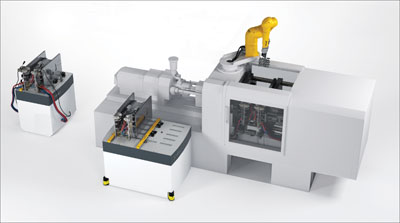 Plastics processing companies face stringent demands on the design and quality of injection-molded parts along with a wider range of product variants, creating a need for more efficient mold changes
DUNCAN, S.C. – Stäubli, the innovative systems provider for the plastics industry, will showcase its pioneering Industry 4.0-connected workflow at NPE2018: The Plastics Show (booth #W4003) in Orlando, May 7-11.
Stäubli's Quick Mold Change (QMC) and automation processes speed up every stage of the mold change process. A unique range of integrated, Industry 4.0-connected solutions for injection molding save plastic processing companies precious minutes every time a mold is changed. At NPE, Stäubli will present a demonstration cell to showcase its Single-Minute Exchange of Die (SMED). The company's superior QMC solutions allow the exchange of injection molds to be performed to the highest safety standards within minutes.
Industry 4.0, the integration of digital technologies and automated processes, is transforming the face of production for industrial players, accelerating the convergence of the virtual and real worlds. Wirelessly connected electronic industrial components can now share information with a computer, tablet, or smartphone and are capable of perceiving, analyzing and acting based on a specific situation and environment. Manufacturers are increasingly digitizing their work tools, and the entire industrial process, from production to warehousing, distribution, and sales, is becoming networked and communicating in real time.
"Smarter electronics can improve the manufacturing process by helping control the costs of flexibility and optimizing quality, reliability, and safety," said Phil Briggs, Fluid Connectors Division Manager, Stäubli North America. "If smart equipment can be used to manage product variations automatically, manufacturers will be able to produce shorter runs without a spike in production costs. In the factory of the future, not only will it be possible to vary production, but also to shorten product life cycles as needed."
Mass customization of personalized goods is a growing trend. And with individual demands for product variety increasing, the manufacturing industry is turning more and more to digital technology and powerful manufacturing systems to ensure efficient production. To meet market needs, industry players have to be able to diversify their products, and the more varied the product line, the more competitive it is. But varying products or changing their design takes a flexible process. This level of flexibility requires downtime for recalibrating and retooling equipment, operations that can drain productivity and increase costs.
"Faced with these new challenges, Stäubli designs automated systems capable of communicating with each other and adapting production to demand with the greatest flexibility," said Briggs.
The solution includes simplified system architecture, connected processes (everything from the customer's order to quality control), and streamlined factory systems that create a fully integrated, intelligent production network that facilitates the mass production of individualized goods.
Stäubli's mechatronics experience in robotics, sensors, magnetic clamping, rapid connection devices, tool changers, trolleys and electrical connections enables its QMC system to work quickly and safely within minutes. The QMC demo cell features a step-by-step presentation of each of the technologies involved. Stäubli's integrated sensors detect the condition of the mold, the molding force of the magnetic clamping system and a variety of other factors and feed that data into the process. Any faults, like a failure to reach the correct operating temperature, will be recognized early so the fault can be corrected, maximizing efficiency and safety.
Stäubli has assembled a product portfolio that is tailored to the needs of the plastics industry, offering smart automation solutions for injection molding machine manufacturers, integrators and end users. Learn more about Stäubli's latest solutions by visiting booth #W4003 at the Orange County Convention Center in Orlando May 7-11, or visit www.staubli.us for more information.
About Stäubli North America
Stäubli North America's headquarters is located in Duncan, S.C., and employs more than 200 workers supporting Connectors, Robotics and Textile customers. The team includes local sales engineers throughout the US, Canada and Mexico.
Stäubli is a leading manufacturer of textile machinery, quick release couplings and robotics systems. With a global workforce of more than 4,500 employees, Stäubli is present in 25 countries and is supported by a comprehensive distribution network in 50 countries worldwide.