Start Saving with a Free, On-Site Value Analysis Visit
Saving time and money in today's uncertain economy is vital for engineering companies. To help its customers cut costs, igus is offering free, on-site value analysis visits for cost reductions. An igus expert is available to review your bearing application on-site and recommend the most effective motion-control solution from its line of more than 9,600 plastic bearing products. The company's self-lubricating plain, linear and spherical bearings can deliver a potential cost saving of up to 40%.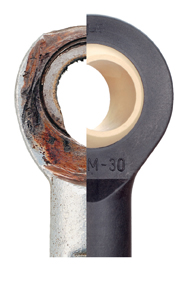 The company says its iglide plastic plain bearings can reduce costs up to 25% when compared to bronze, metal-backed and custom injection-molded bearings. They are low cost, maintenance-free and available in 28 high-performance material blends. iglide bearings feature high wear resistance, a low coefficient of friction and can replace more costly alternatives in a variety of applications. Plastic bearings will also never corrode and are resistant to dirt, dust and most chemicals.
For linear applications, DryLin R bearings offer a possible cost saving up to 40%. Available in plain, pillow block and flange styles, the linear bearings are a cost-cutting, lightweight alternative to metal ball bearings. DryLin R will not corrode and, because it is wear-resistant and self-lubricating, a long service life is guaranteed.
igus' DryLin linear slides deliver longer life where expensive alternatives fail. By implementing them into their applications, customers can save nearly 40% and simultaneously benefit from DryLin's resistance to dirt, dust and chemicals. DryLin N, for example, is a low-cost, low-profile alternative to miniature ball bearing systems and is more precise and economical when compared to many custom-machined equivalents.
igus' line of igubal spherical bearings are lubrication-free and can cut costs up to 40% when compared to similar alternatives. igubal is 80% lighter than conventional steel spherical bearings. The self-aligning range compensates for misalignment errors and edge loads, eliminating the need for costly readjustment, reaming or retrofitting.
Call 1-888-803-1895 for a free, on-site value analysis and recommendations from an igus expert.