St. Louis Metallizing to Feature Robotic Thermal Spraying and Laser Cladding Technology at FABTECH 2012
SLM utilizes ABB robots to achieve the ultimate in precision, repeatability and speed in spraying parts that vary widely in size and complexity

AUBURN HILLS, Mich. – St. Louis Metallizing (SLM) will feature its thermal spray and laser cladding technology at FABTECH 2012, November 12-14 at the Las Vegas Convention Center (Booth # N-2315). For over 60 years SLM has been applying metal and ceramic coatings to a wide variety of OEM and repair parts and machine components to minimize corrosion and extend part life. For much of its history SLM applied the coatings through a manual spray process. As SLM's market grew to handling parts from throughout North America and abroad it began to evaluate the effectiveness of automation. In 1989 SLM purchased a Cincinnati Milacron model 646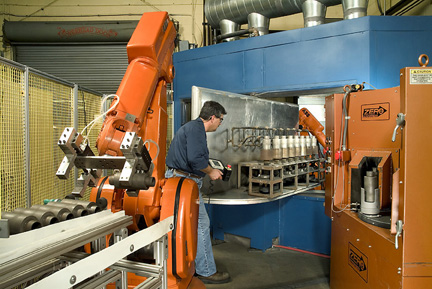 6-axis robot to apply the coatings on larger parts. Just a year later ABB bought Cincinnati Milacron's industrial robot business. Pleased by the results of the initial foray into robots, SLM has built up a portfolio of 17 ABB robots of varying models in its St. Louis facility to handle the coating of parts of all shapes and sizes. The SLM robot inventory includes five IRB 6400, four IRB 4600 and five IRB 2400 models, as well as earlier versions of some of these models.

SLM applies thermal spray and laser cladding to parts that vary greatly in complexity and size, from small aerospace parts and valves used in the oil and gas industry, to 40 ft long hydraulic rods for large mining vehicles. The application is highly precise work, with multiple coating layers of exacting thickness' required to achieve the optimal protection, and to meet stringent quality requirements such as the AS9100/NADCAP standards covering aerospace parts. Industrial robots are uniquely capable of providing the precision and exacting repeatability that are critical to delivering the consistent part coverage required for the spraying processes to be effective. The robots have also taken the SLM labor force out of a dusty and noisy environment and put many of them in the role of robot operators where they make sure the proper parameters are dialed into the system for the specific part to be coated, and assure that the process is working properly. Parts are sprayed to more exacting measures in a fraction of the time with robots.

SLM also uses ABB robots in its waterjet stripping process, the precise removal of worn or sacrificial coatings. Once stripped, the parts are typically recoated. Using the highly accurate application of precise streams of high pressure water, the robots are able to remove a coating a thousandth of an inch at a time, ensuring there is no damage to the substrate. The robot enhanced process reduces the time it takes to strip many parts from days, to minutes. Most of the ABB robots on the SLM floor are foundry class, fitted with the very best seals and motor enclosures to protect against water, dust and other contaminants

Tom Desloge, director of sales and marketing at SLM noted, "The ABB robots have allowed us to provide consistent quality to our customers for many years, and have helped build our reputation as being an industry leader in the area of thermal spray, laser cladding and finishing services."

In addition to running its own operation SLM has expanded into the business of setting up similar ABB robotic spraying systems in non-competitive industry segments throughout the country.

"St. Louis Metallizing is a great example of a company that has realized the great benefits of automating their processes with industrial robots," said Michael Mahfet, vice president and general manager, ABB Robotics, North America. "Not only have the robots kept them at the top of the thermal spraying and laser cladding industry, but their expertise has become so deep that they are starting to be an integrator of ABB robots for other end users."

St. Louis Metallizing (www.stlmetallizing.com) has been developing innovative thermal spray and finishing solutions for over 60 years. With new services including Laser Cladding, SLM is now able to serve its customers as a one-stop shop for all thermal spray, laser cladding, machining and grinding services. Key markets in the US and overseas include aircraft, oil & gas, mining, power, and general industrial.

ABB Robotics is a leading supplier of industrial robots - also providing robot software, peripheral equipment, modular manufacturing cells and service for tasks such as welding, handling, assembly, painting and finishing, picking, packing, palletizing and machine tending. Key markets include automotive, plastics, metal fabrication, foundry, electronics, machine tools, pharmaceutical and food and beverage industries. A strong solutions focus helps manufacturers improve productivity, product quality and worker safety. ABB has installed more than 200,000 robots worldwide.