Spreading a Worldwide Net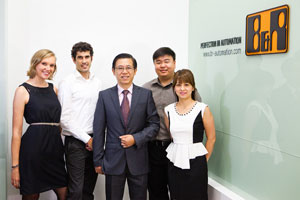 B&R opens new subsidiary in Singapore
B&R has inaugurated its 25th subsidiary in Singapore. The strategically located office serves the entire Southeast Asia region, and is spearheaded by General Manager Mark Meng.
"We have created a strong lineup of partners in this region over the past years, and have been well posi-tioned in our target markets. It is the right time to step up with a new and promising start," says Meng who has already been in charge of the Southeast Asia region for the past years. Besides the city state itself, B&R Singapore will take care of the surrounding countries as well. The main focuses laying on Malaysia, Thailand and Indonesia, as they both have growing machine building industries that try to reach the global market.
Fully localized support
B&R Singapore commenced its activities with a full team of business development, sales, technical and application support. "Our customers, as well as partners, will benefit from our strong local support team," says Meng. "We will accelerate the delivery of solutions which leverage the power of integrated automation technologies and high scalability, and help our OEM customers achieve their business goals while competing in the global market."
B&R company profile
As a global leader in industrial automation, B&R combines state-of-the-art technology with advanced engineering to provide customers in virtually every industry with complete solutions for machine and process automation, motion control, HMI and integrated safety technology. With industrial fieldbus communication standards like POWERLINK and openSAFETY as well as the powerful Automation Studio software development environment, B&R is constantly redefining the future of automation engineering.
B&R Industrial Automation, Inc. North America, based in Atlanta, GA, has been working closely with its customers since 1987. Since then, B&R North America has continuously grown as a sales and support organization through both direct sales offices and B&R's unique Automation Partner distribution network. Today, B&R North America has a network of more than 25 offices throughout the USA and Canada and is there for its customers locally.