SPiiPlusCMHV EtherCAT Master Motion Controllers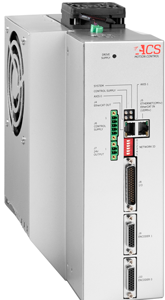 ACS Motion Control has launched a new control module that can manage networks with up to 32 axes and thousands of I/Os.
The SPiiPlusCMHV is a line of EtherCAT master motion controllers with one/two axes of integrated drives that operate from 3 phase 230Vac to 480Vac, or 320Vdc to 670Vdc. The SPiiPlusCMHV line offers currents from 5/10A (continuous/peak) to 20/60A (continuous/peak).
Each control module consists of a motion controller and EtherCAT master, one or two servo drives, and a power supply.
The SPiiPlusCMHV line is the ideal solution for motion centric industrial applications, medical scanners, new generations of large FPD positioning tables, and many other applications where high servo performance is required.
For more information about the SPIIPLUSCMHV go to: www.acsmotioncontrol.com.
About ACS Motion Control
An international manufacturer of advanced multi-axis motion controllers, machine controllers and integrated control modules, ACS provides standard and custom products that combine power and precision to deliver flexible, economical, user-friendly motion and machine control solutions. Established in 1985, ACS' international headquarters is located in Israel and its North American headquarters resides in Bloomington, MN. ACS also has facilities in South Korea and China, and distributors worldwide that deliver dependable customer service and product support. ACS is an ISO9001 certified manufacturing facility, demonstrating its continuous commitment to providing customers with reliable devices that are thoroughly tested with the latest available techniques.